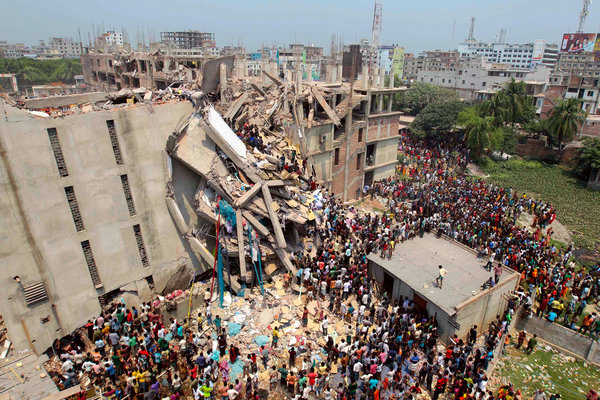 I am heartbroken to write another blog post about unsafe garment worker conditions in the country of Bangladesh. Because yes, there is news today of a garment factory collapse that has killed "at least 87" workers. This building had known structural cracks and "workers told Bangladeshi news outlets that supervisors had ordered them to attend work on Wednesday, even though cracks were discovered in the building on Tuesday."
In a country rapidly becoming known for unsafe working conditions and lax government oversight, these news stories are becoming more and more frequent. Despite efforts to protect worker rights, there seems to be no improvement. (Just last year Bangladeshi workers rights activist, Aminul Islam was found violently murdered.)
"Bangladesh's garment industry has grown rapidly during the last decade, particularly as rising wages in China have pushed many global clothing brands to look for lower costs elsewhere. Bangladesh has the lowest labor costs in the world, with minimum wage in the garment industry set at roughly $37 a month. Retailers and brands including Walmart, H&M, Sears, Gap, Tommy Hilfiger and many others have outsourced the production of billions of dollars of clothes there."
The NY Times reports that "brands manufactured at this specific factory include Benetton, The Children's Place and Dress Barn," and The Huffington Post added that "clothes with Disney, Wal-Mart and other western labels were found at that factory."
This is the price of our low cost clothing. But this is also the cost of higher end clothing as well, as Benetton and The Children's Place are hardly selling for a buck or two.
If you have ever needed a reason to stop buying new foreign-made clothing, this is your moment.
Buy used, buy made in America, but please, I beg of you, make a choice to stop being part of the cycle that keeps these death trap factories in business! Show the people of Bangladesh that you care about their citizens, and that you want no part of a manufacturing culture that cuts corners at the expense of human lives.
Click HERE to read my blog post about the 2012 Bangladeshi Tazreen factory fire that killed 112 workers.
Click HERE to read my blog post about the 2010 Bangladeshi factory fire that killed at least 25 workers.
Please share this article on your Facebook page, on Twitter and in your conversations. Until we as consumers take responsibility for our role in unsafe foreign worker conditions, there can be no change.
Katy Wolk-Stanley