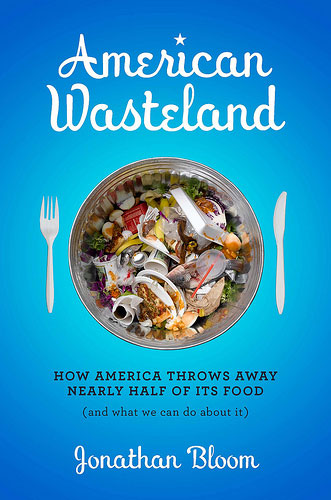 The following is a guest post from Jonathan Bloom of Wasted Food. There is simply no such thing as a Thanksgiving meal without bestovers, (and seriously, what would be the point?) and staying on top of avoiding food waste can become a daunting and often frustrating task. The following tips will hopefully inspire you to be as waste-free as possible.
Please spread the word of "Be Thankful, Not Wasteful" on your blogs, Facebook pages and Twitter. (Click HERE to view Bloom's original post.) Let's band together to make food waste avoidance more important in 2010 than 5:00 A.M. Blu-Ray doorbuster deals. And don't forget to read American Wasteland, Bloom's in-depth look at food waste, from farm to crisper.
Katy Wolk-Stanley
"Use it up, wear it out, make it do or do without"
I hinted at this on Monday, but I wanted to throw down an expanded call to action for Thanksgiving and after: Be Thankful, Not Wasteful
Thanksgiving celebrates abundance. And we should absolutely enjoy the celebration. At the same time, I don't think we honor anyone or anything by wasting food.
I'm calling on you to help ensure that your family or friends do their best to eliminate or minimize waste at your Thanksgiving feast.
Here are a few ideas:
Be sure to distribute the bounty. If you're the Thanksgiving host, suggest that your guests bring along a few plastic containers of various sizes to fill with leftovers (or have a bunch on hand). There's no sense centralizing so much food that we'll struggle to put to use. Being so overt about leftovers may feel a bit odd, but that slight discomfort will pale in comparison to the disappointment from having to toss pounds of once-good food.
Celebrate abundance, not excess. Don't take too much when you serve yourself. You can always go back for seconds! Keep in mind that the average Thanksgiving dinner today comes in, conservatively, at 2,057 calories. And remember, what's on our plates is seldom saved.
Properly save those leftovers. And do it quickly. Not letting foods sit out too long in the bacteria danger zone (40-140 degrees F) will mean they'll be safe to eat and also last longer.
Plan for your leftovers…and eat them! Whether it's a turkey pot pie, turkey soup or turkey tacos, find some fun ideas that'll get you excited to use up your T-day remains.
Share Your Tips and Tricks:
Help others reduce waste around Thanksgiving by sharing your insight. We've already received a few helpful tips, including Rachel's idea to make notes on the number of guests, the amount of food eaten and the amount remaining to help prepare the right amount next year.
I'm directing people to the Wasted Food Facebook page where we are compiling a series of tips, successes and–should they occur–failures. These can be videos, photos or descriptions from inside people's Thanksgiving dinners.  Feel free to post during the prep, the dinner itself, or the "aftermath." Together, we'll create a living blueprint for how celebrations can balance abundance with respect for resources.
A few more ideas:
• Videos describing what your friends/family are doing this year to reduce food waste. Or, if a video is too much, a photo or description of the steps taken will work just fine.
• A recipe or two for your favorite dishes made from Thanksgiving leftovers.
• Your preferred way to make the perfect leftover turkey sandwiches.
• An "unboxing" video of leftovers from the dinner you attended.
Spread the Word:
I hope you will consider letting your social network know about the Be Thankful, Not Wasteful initiative. Please share this post and ask folks to take action on their own. (And of course to post their results!)
Do you blog? Please consider a post or video encouraging your readers to participate. Ask readers to join you in adding their voice to the discussion.
Mention the initiative–and this fabulous new book–at your Thanksgiving celebration. I mean, I don't want you to start any dinner table arguments or anything, but…
Solicit tips and tricks from your friends and family who aren't social media savvy and post them yourself – I know I'll be asking my Grandma for some ideas.
Thanksgiving is the one day of the year where we're all focused on food. Let's leverage that as a call to action to change our wasteful ways for the rest of the year. I think the day will be more meaningful that way. And remember — even incremental changes can have a massive effect if they're done by millions of Americans.
Jonathan Bloom