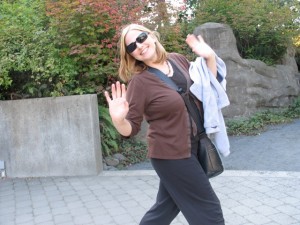 I have a tendency to get caught up in the stressors of day-to-day life and can let myself get close to the edge. But the one idea that backs me up from the slippery precipice is the notion that I am my own boss. This is true with my blog, my family and my household duties. I don't have to follow a strict set of rules, I can create my own routines, ethics and guidelines.
Some of the ideas that I've been rethinking lately:
I must blog on a daily basis.
I must serve dinner at 6:00. (If we're hungry at 4:00 P.M., then we eat at 4:00 P.M.!)
I must do the dishes promptly after dinner.
I must go to bed and wake up early.
I must have washboard flat abdominal muscles.
I write about sustainability and simple living, therefor I must get rid of my cars and winnow my belongings down to 100 items.
I must live my life exactly like every else.
I am a 42-year-old woman who gets to make her own rules. I don't live in an oppressive society and I celebrate the elastic waistband! Occasionally I choose Mad Men over a sink full of dishes and my life would be a million times more inconvenient if my cars went away.
I am my own boss, and I can live the life that feels right to me.
Go ahead and try it, it's extremely liberating.
Katy Wolk-Stanley
"Use it up, wear it out, make it do or do without"