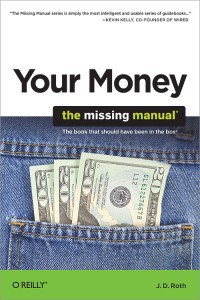 Although I consider myself to be extremely responsible and savvy with the money in my wallet, that doesn't mean I know diddly-squat about stocks, bonds, mutual funds or Roth IRA's. But that's okay. You don't have to be an expert before dipping your toe into the icy cold water of money management. (Don't worry, I have a 4013B through my employer, and I've been adding to it for years. Although somewhat passively.)
Luckily, there are saviors, like J.D. Roth who have taken the time to educate themselves about personal finance and high end money management. For those who may not know, Roth is a local boy done good who writes the highly successful blog Get Rich Slowly, which addresses just about any monetary issue you can think of. And like many boys done good, he wrote and published a fantastic book, which is called Your Money: The Missing Manual. This deceptively small book deftly boils complicated financial concepts into clear and understandable writing. Not an easy task.
This really is the book I wish I'd read, (and kept to refer to) when I was twenty years old and in my first adult job. (Administrative Assistant at a marketing firm in New York City.) Luckily, it's still a valuable resource when a gal is working her way through her early forties.
Roth had offered to give me a book to use as a giveaway for Non-Consumer Advocate readers, but I actually found a used copy at Goodwill, which I promptly grabbed despite the $4.99 price tag. (Highway robbery for a thrift shop book in my opinion.)
To enter to win this copy of  J.D. Roth's Your Money: The Missing Manual, just write your best financial tip in the comments section below. I will randomly choose a winner on Wednesday, July 28th at midnight. One entry per person, U.S. residents only.
Good luck!
Katy Wolk-Stanley
"Use it up, wear it out, make it do or do without"