Although I completed this campaign dresser project last summer, I somehow hadn't posted about it yet. Why? Because I felt the after photo needed to be super cute and styled, like a real decor blogger would do. Except that the reason I bought this sturdy behemoth of a dresser in the first place was because we needed a place to put our 165-pound bedroom TV. Yes, it's a flat screen, yes it's high definition, but it sure as hell isn't lightweight. But guess what? It was free, so I have nothing to complain about!
The TV had been on a rolling metro shelving unit that my husband hobbled together, but I was always crashing into it in the darkness of night. (My husband was working a 3 A.M. to 3 P.M. shift and consequently went to bed hours and hours before me.) I hated it. I wanted a low sturdy dresser to put the apparently hostile TV on once and for all!
So when I came across this $19.99 Goodwill dresser, my DIY crafty self kicked into gear. It wasn't much to look at, but I'd come across some cute painted campaign dressers on the internet, but I just could't get over the hideous wood finish.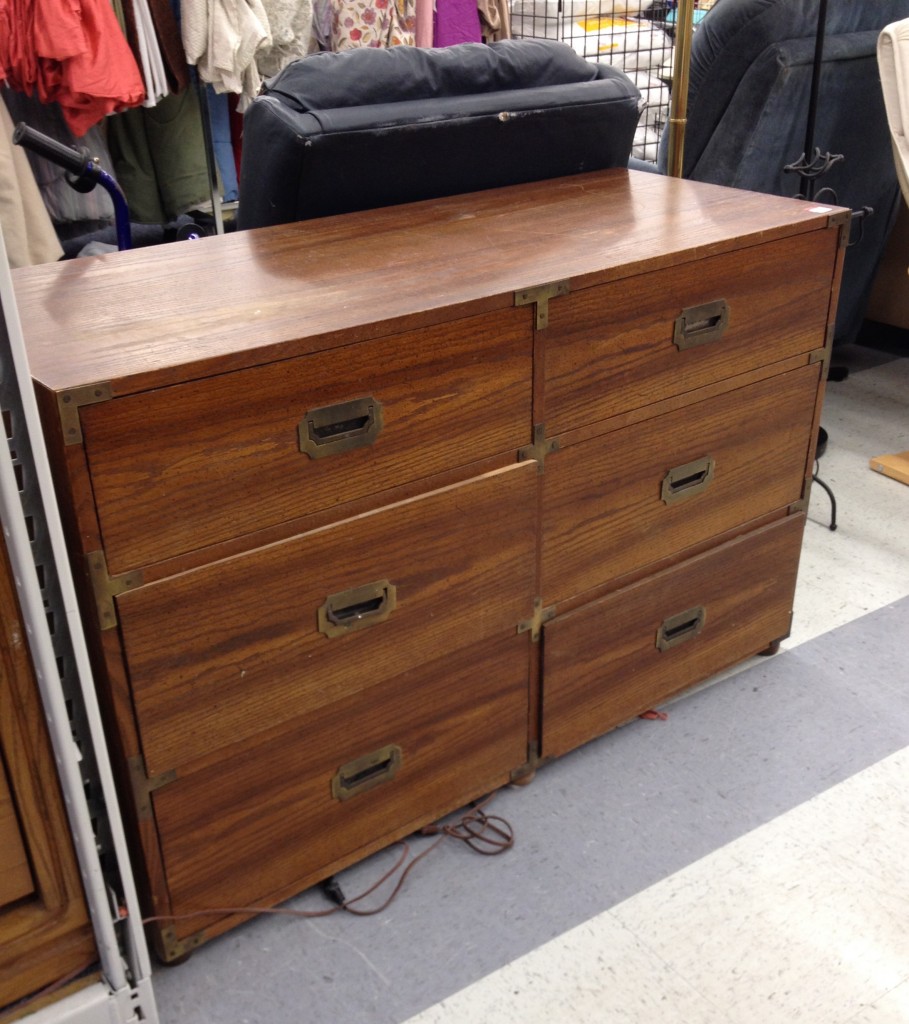 Check out the tacky splatter finish and raised grain. The dresser was proudly marked as being manufactured in 1973, and it showed.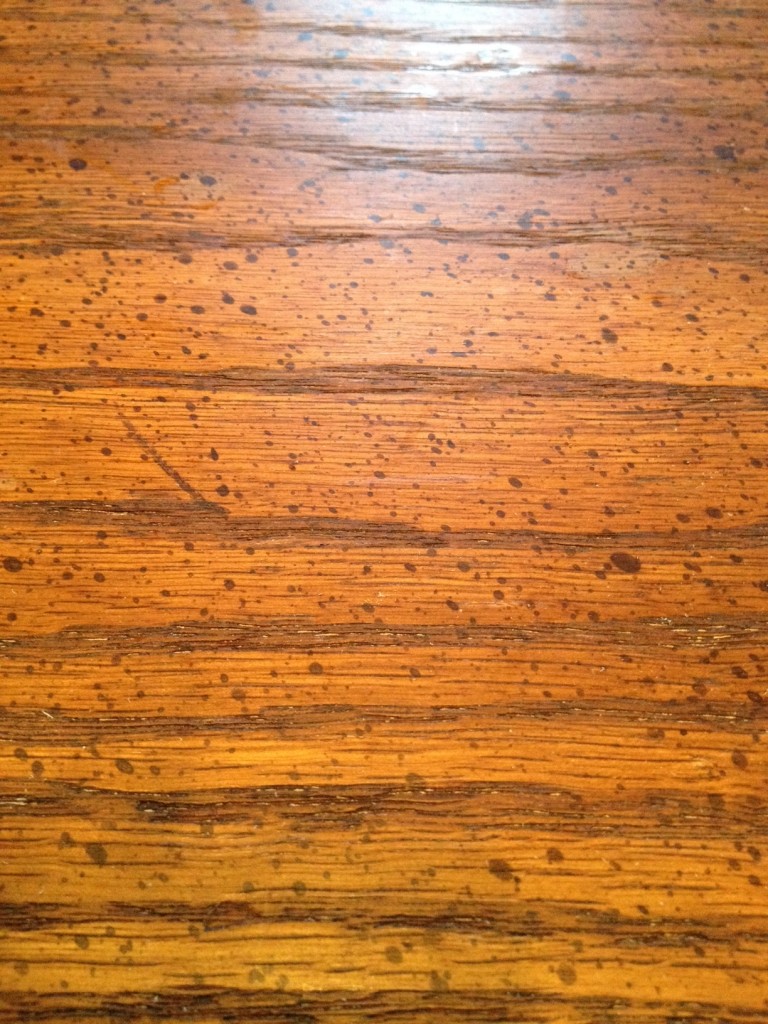 The dresser had nice tight dovetail drawers and an extremely sturdy frame, but was unapologetically outdated. However, it was a quality piece of furniture, so I took my photos and went home to mull it over.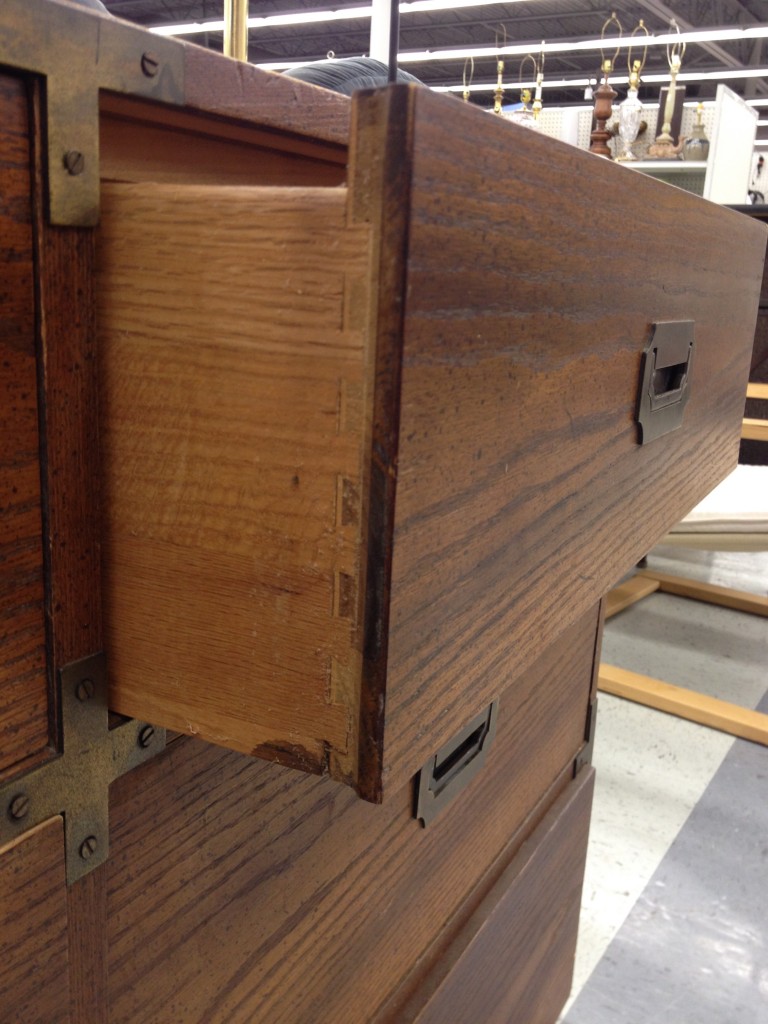 I did an internet search for "painted campaign dressers" and fell into a deep well of love and beauty. So adorable, so cheerful, so . . . dare I say it?
On trend.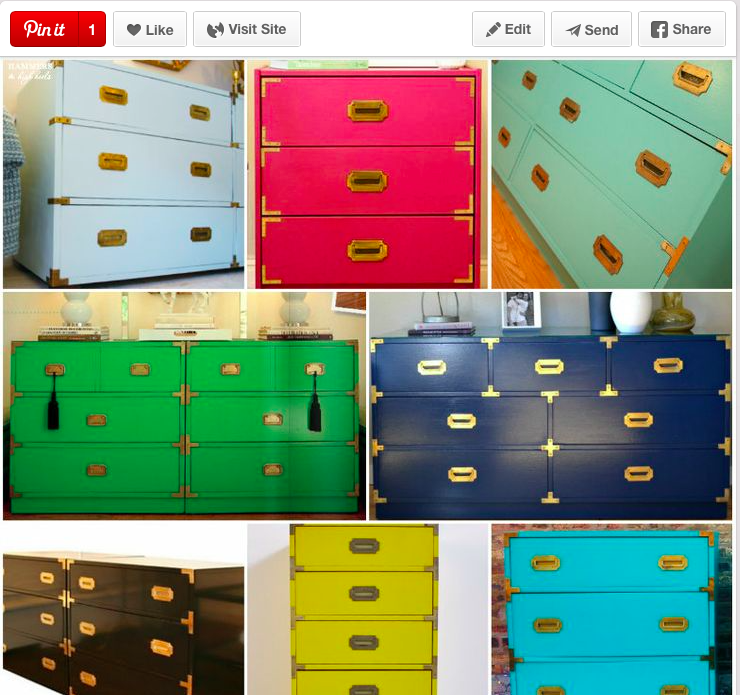 So I drove back to Goodwill and popped that bad boy into the back of my minivan. And when I got it home I discovered a stack of price tags all the way up to $39.99.
Katy likes a bargain.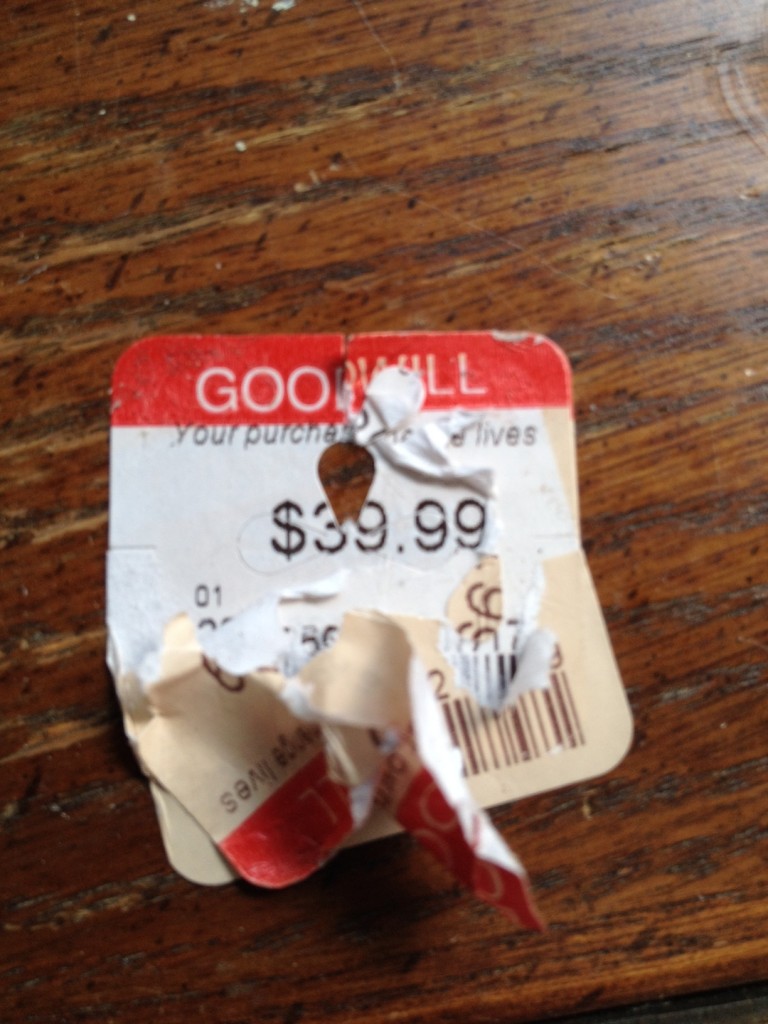 I also found this medallion for "Hickory Manufacturing, since 1911" in one of the drawers, which I thought was very charming.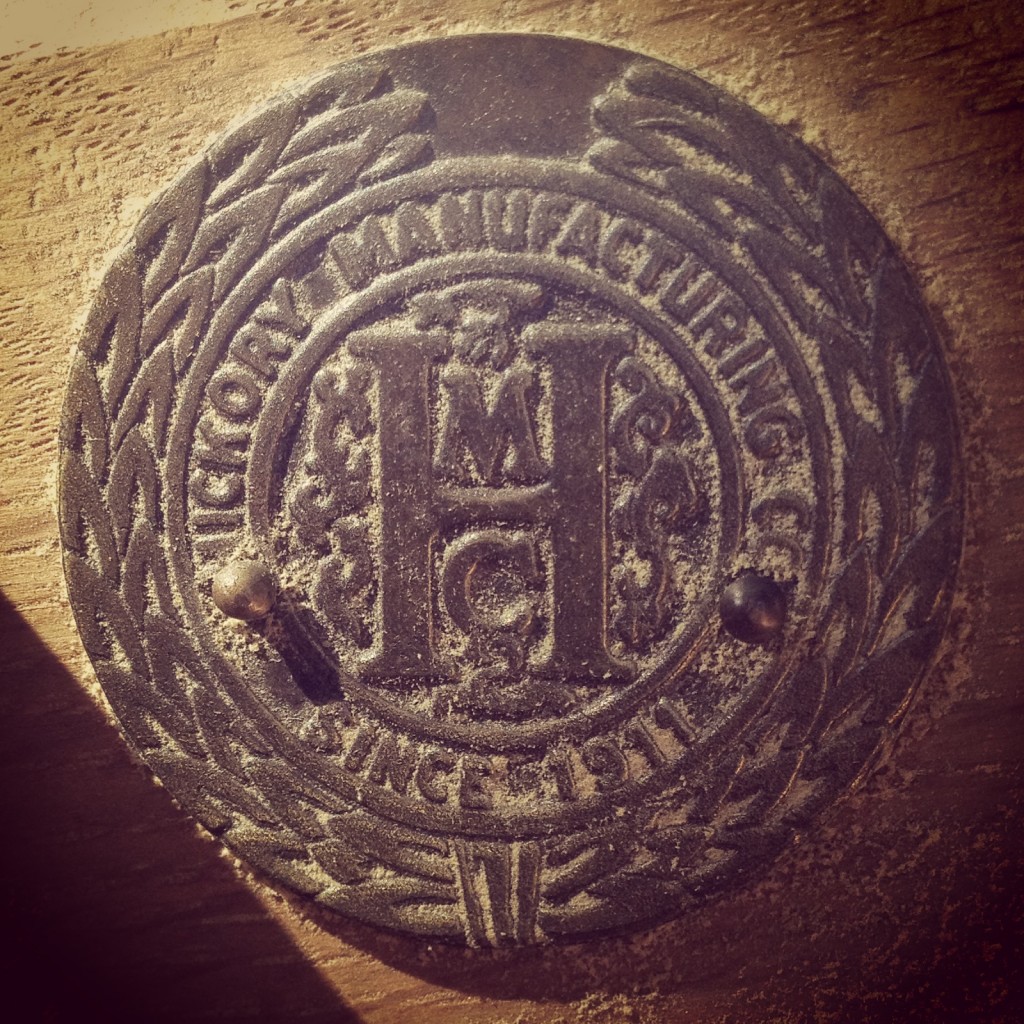 I already have a fair amount of color in my bedroom, so I decided to paint it a neutral color, and this pot of grey paint hit the spot. I highly recommend the Habitat ReStores as a great place to begin any search for project supplies. Not only was this half-gallon of paint priced at $2, but I was able to put something to use that would otherwise have been wasted.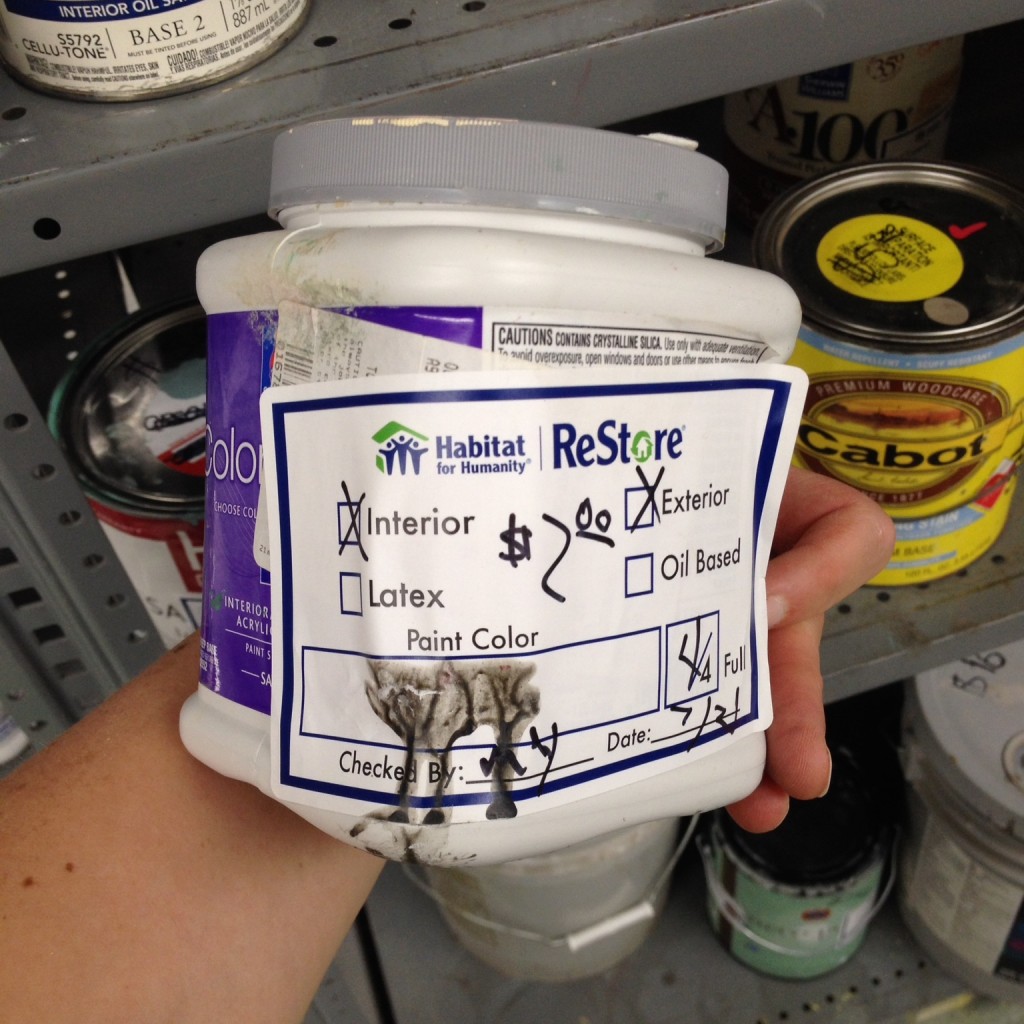 Of course, the fun part of this project was shining up the brasswork. I could have made things easy for myself and bought brass polisher, but I wanted to try what I already had on hand. Like catsup and toothpaste. It took a lot of elbow grease, but it was still an enjoyable job. One thing I messed up on was soaking it overnight in the catsup. This was a problem because although some parts were solid brass, the dangly-handle bit turned out to just be brass plated. Not a terrible mistake, but still not my shining moment.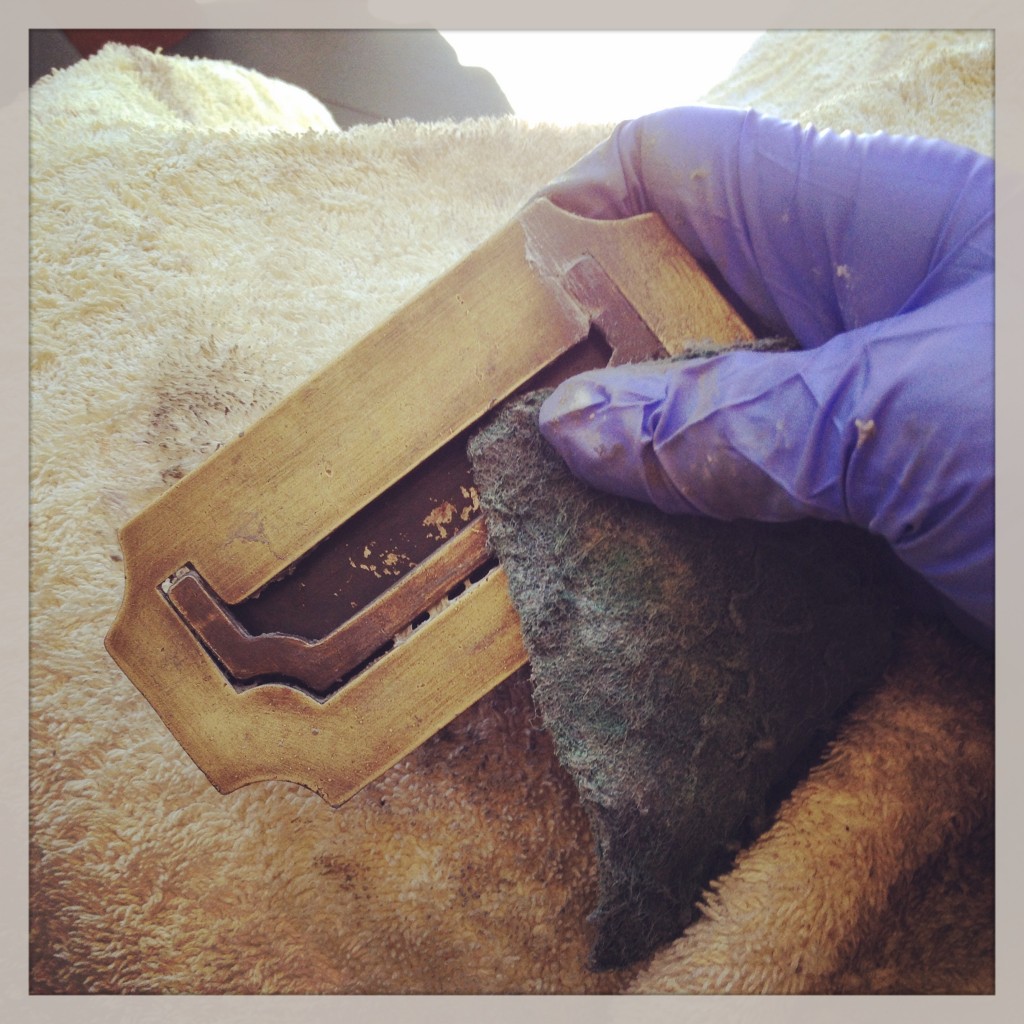 Look at what a difference shiny brass makes!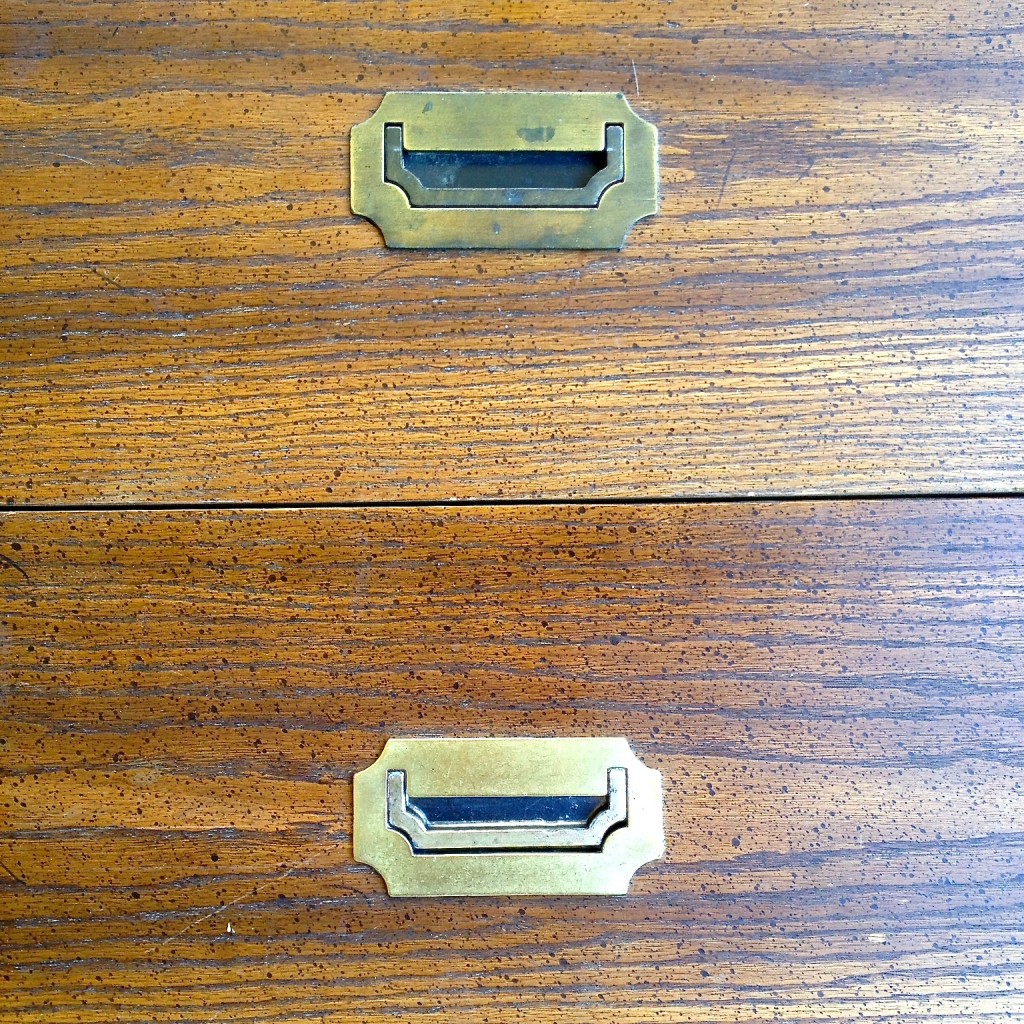 Since this project was done during the summer, it was no big deal to set up in the backyard and sand the wood down to a buttery smoothness. Apparently I even used some wood caulk for some reason that now escapes me.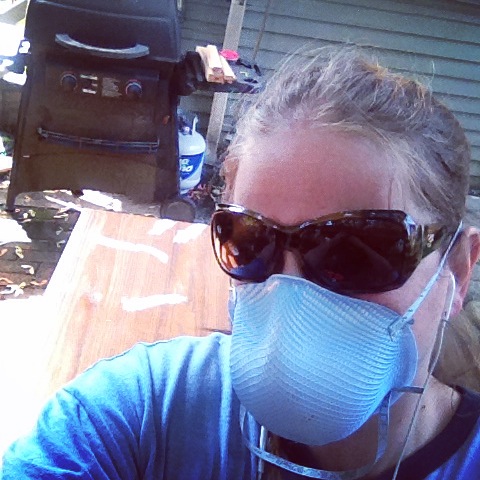 In the end I painted on one coat of primer plus two coats of paint. I then asked on my neighborhood Facebook page if anyone had any polyurethane collecting dust in their basement, and my next door neighbor gave me an almost empty can which was exactly enough to complete the project.
I also reglued and sanded down the left-side middle drawer which somehow didn't fit right.
So pretty, right?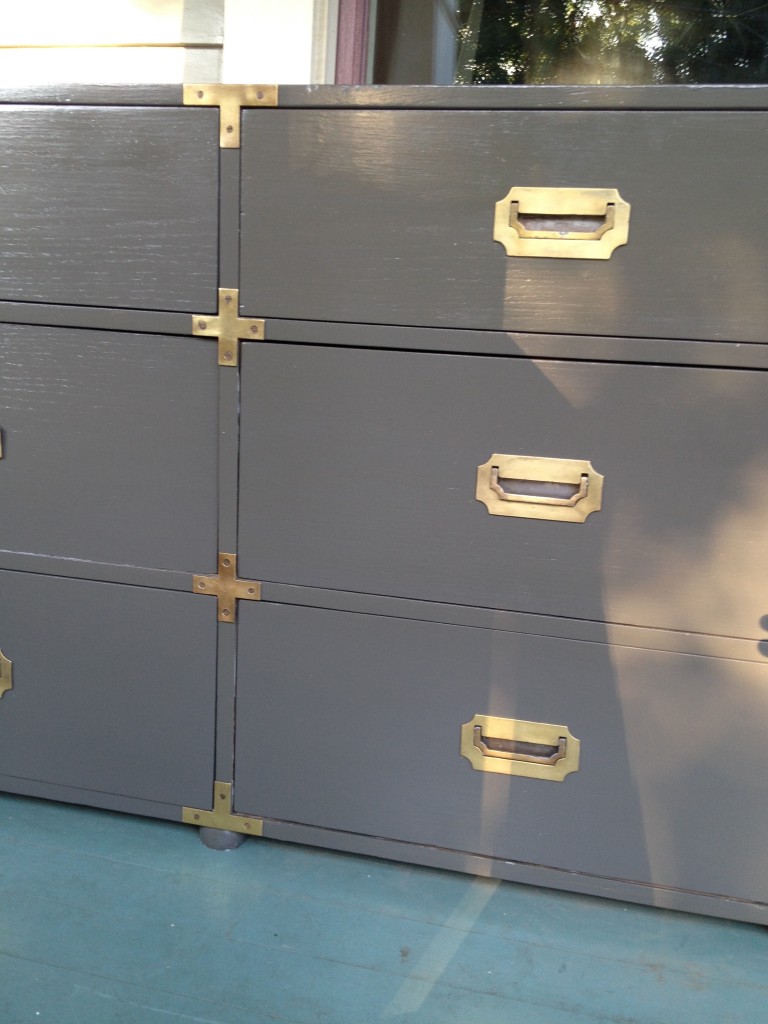 And here it is holding our gargantuan television set, which serves to broadcast high-kicking-low-scoring soccer games to my husband, and crap-TV to a certain someone who likes a little distraction while folding laundry. (Plus of course, an accidental selfie.)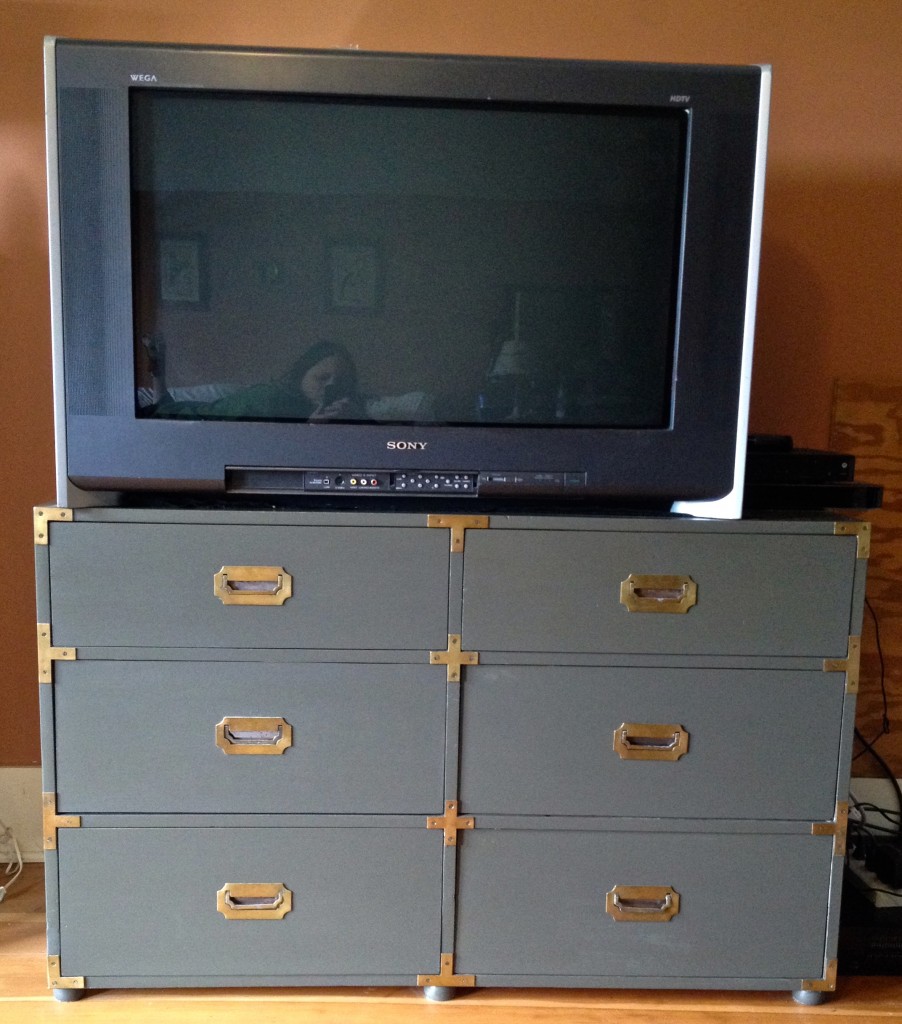 And here it is with the honking huge TV cropped out of the photo: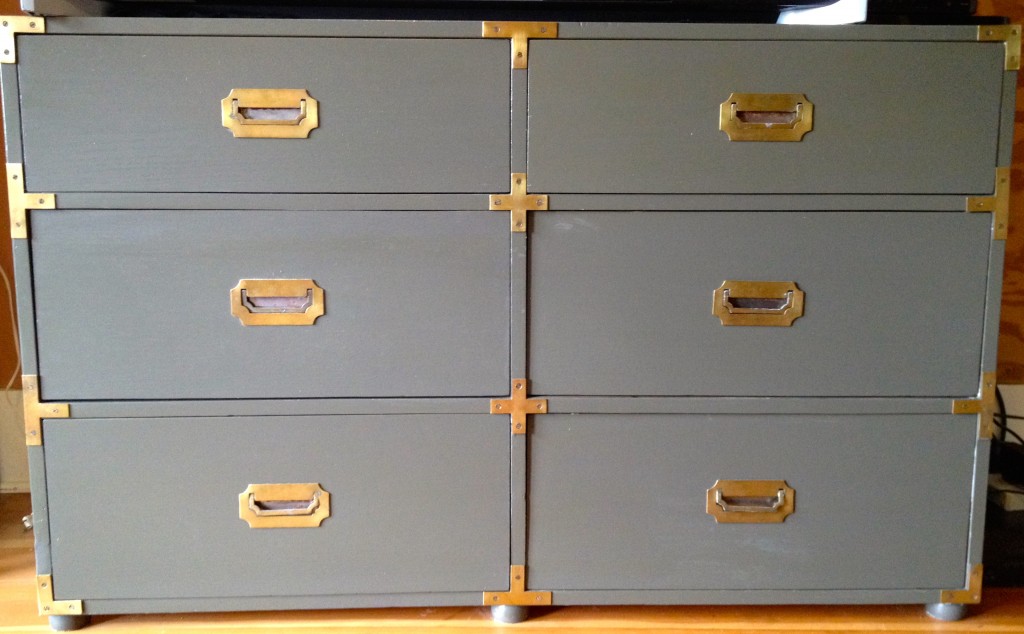 My plan had been to style it with attractive doo-dads for a blog-worthy photo op, but my husband was so pleased with the finished project that he set the TV on it before I got my tuchus in gear. Oh well . . .
The total cost for this project was $22. Yes it took some work, but all of it was enjoyable, and I'd rather spend my time bringing something back to life than most anything else in the world.
And now I can maneuver throughout my bedroom without fear of injury, day or night! Which is really all that matters.
Katy Wolk-Stanley
"Use it up, wear it out, make it do or do without."