If there's a love that unites this great country of ours, it's an abiding love for makeovers. Decorating makeovers, marriage makeovers, beauty makeovers, whatever–you–can–think–of–makeovers. Heck, they even have an entire TV network focused entirely on the transformative attraction of the before and after.
And I'm no different from anyone else. I fantasize about a team of experts who sweep into my life and organize my home, my wardrobe, my waistline and then landscape my yard within an inch of its life. All for free.
But reality is like slap in the face with a cold wet trout. Long lasting life transformations do not take place over a 24 hour, or even a seven day period. Because real life has a before, during and after.
Take my bedroom as an example. This is not a room that has received much decorating attention, and tends to be a repository for stuff that has no other logical designation. Sasha dolls from my childhood, a big basket of yarn, (I neither knit nor crochet) and textbooks from when my husband went back to school. It all lives in our bedroom. This was starting to really irk me, so I decided to put an effort into turning our bedroom into a nice space.
My husband and I have been sleeping on a full-size mattress since day one, and I decided that we would much more comfortable with the elbow room that a queen size model affords. So I put the word out and sure enough, a friend of my mother has just divorced and wanted her almost new mattress out of her life. A sturdy Hollywood frame was promptly mined from a neighbor's basement. I like to have a headboard, but know one will turn up in time.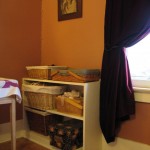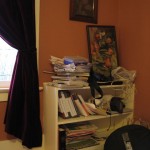 Our bedroom has built-in shelves on either side of the windows, one of which is designated as mine, the other as my husband's. I really like the look (and function) of white canvas lined baskets, and as a result I keep an eye out for them when I go to thrift stores. I would like to have both sets of shelves hold a cohesive collection of these baskets, which could then hide the cluttery crap that seems to follow our every move. But right now, my side is fairly organized with baskets, and my husband's is an embarrassment. I could fill the cart up with organizing gear at Target, but I'm okay with keeping an eye out and being patient.
I'm also keeping an eye out for another bedside table and a rug to complete my before and after bedroom project, but I'm in the lengthy during phase at the moment.
This method of redecorating would produce far from compelling TV programming, but that's okay, because I am the reality that reality TV forgot.
The before, during and after-ness of being a one-woman team of experts that also has to make dinner, help with homework, hang the laundry, well . . . I think you get my point. But . . . if they're looking for a before and after makeover show of underwear drawer transformations, then that's about my speed. (All miraculously in under 24 hours!)
Do your fantasies veer more toward a pantry makeover than Brad Pitt or Angelina Jolie? Please share your thoughts in the comments section below.
Katy Wolk-Stanley
"Use it up, wear it out, make it do or do without."
P.S. Click on the photos to enlarge the organization vs. clutter of our "his and hers" shelves.