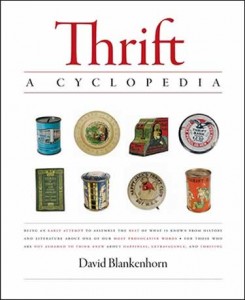 This giveaway has ended. Thank you to everyone who entered your thrifty tips!
Although Thrift Week is over, thrift at my house lingers longer than a house guest with a hide-a-bed fetish.
To recognize the 365 days that encompass my thrift week, I have another giveaway for Non-Consumer Advocate readers.
Today's giveaway is for a copy of Thrift: A Cyclopedia, by David Blankenhorn, (Templeton Foundation Press.)
"In David Blankenhorn's new compendium, Thrift: A Cyclopedia, he reminds readers of a time when thrift was one of America's most cherished cultural values. Gathering hundreds of quotes, sayings, proverbs, and photographs of Blankenhorn's vast personal collection of thrift memorabilia, this handsome book is a treasure trove of wisdom from around the world and throughout the ages."
To enter to win this book, please share your favorite thrifty tip in the comments section below.
I will randomly pick a winner on Wednesday, January 27th at midnight Pacific time zone. One entry person, and this contest is open to U.S. residents only.
As a special treat, two runners up will receive "Bring Back Thrift Week" T-shirts in size large.
Good luck!
Katy Wolk-Stanley
"Use it up, wear it out, make it do or do without"
I have received no compensation in exchange for this giveaway.