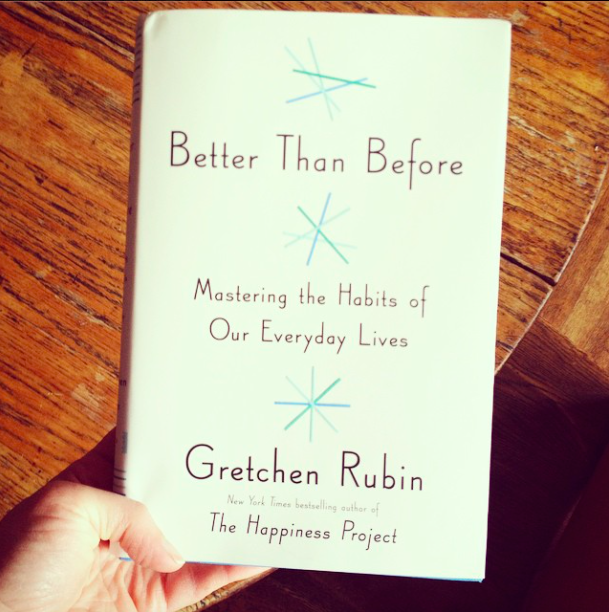 My review copy of Gretchen Rubin's Better Than Before came in yesterday's mail, and despite having a busy day on my plate, I did carve out some time to start the book. Although I'm only 12 pages into the book so far, it's already started me thinking about what my habits are and how they effect my life. I don't perceive myself as an especially self-disciplined person, but I realize don't give myself enough credit for the good habits that I do have.
Rubin writes that "habits are the invisible architecture of daily life" and that "habits make change possible by freeing us from decision making and from using self control," which rings true to me. If a person establishes a habit, then they're able to get through a task (or avoid a behavior) without having to exert self control, and thus that self control is available for something else later in the day. Habits are automatic, whether they're good or bad.
Here's an example. I always fold my laundry as soon as it's out of the dryer (or off the clothesline.) Always. It doesn't even occur to me to do one without the other. But since it's so automatic, I don't pat myself on the back for doing something that would require motivation. It's a single mindless task. But I know many people see the chore of removing laundry from the dryer and folding it as two separate tasks, which then requires self-discipline to complete.
The emptying the dryer + folding task is a habit to me, therefore it doesn't get procrastinated.
Habits are less likely to be procrastinated.
I'll be writing more about Better Than Before as I move past page twelve, and I'll even be hosting a giveaway for a copy of the book. But right now I need to go put water on for tea and start a load of laundry. Because that's part of my morning habit.
Have you given thought to your habits and how they influence you? Do you have a hard time establishing new habits? Please share your thoughts in the comments section below.
Katy Wolk-Stanley
"Use it up, wear it out, make it do or do without."