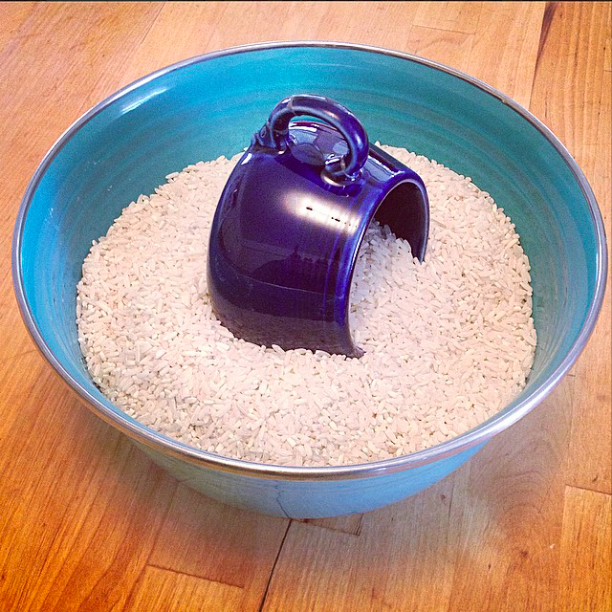 I broke the handle off this Fiestaware sugar bowl a few years ago, and then pushed it to the back of the cupboard with full intent to glue it back together. (Since it was a clean break, I knew that a tiny bit of epoxy glue would bring it back to life.) One barrier to the project was that the bowl would need to stand on its side while the glue dried, despite the second intact handle. But then I realized that the super crappy rice that I keep on hand for drying out electronics would work perfectly for the job. (This rice is so truly awful, I will only eat it in an apocalypse situation.) So now the sugar bowl  has come back to life and my after-the-zombies-come rice has one again saved the day!
I gave my used newspaper and bread bags to my father for scooping his dogs's poop, and then I gave two small vials of Subaru specific paint to my mother's friend. (She and I had the same color Subarus, but since ours was totaled, we no longer had need for the paint.)
I'm planning a dinner tonight to try and recreate the Brian's Bowl from my favorite restaurant, ¿Porqué No? I've already started pinto beans in the crock pot, and plan on scaring up some additional tasty tidbits to spice things up. This will be the perfect way to use up some random ingredients while also making a special meal for my family.
My son is taking a weeklong lifeguard certification class that's from 1 P.M. – 9 P.M. The students are told to "bring snacks." (Umm . . . don't they mean "bring meals?") Instead of packing food from home we're just stopping by Subway each day for a footlong sandwich, which is actually cheaper than it would be to pack the amount of food that a 19-year-old man would eat during those hours. And easier, so much easier . . .
I didn't buy a Lear Jet.
Now your turn. What frugal things have you been up to? 
Katy Wolk-Stanley
"Use it up, wear it out, make it do or do without."