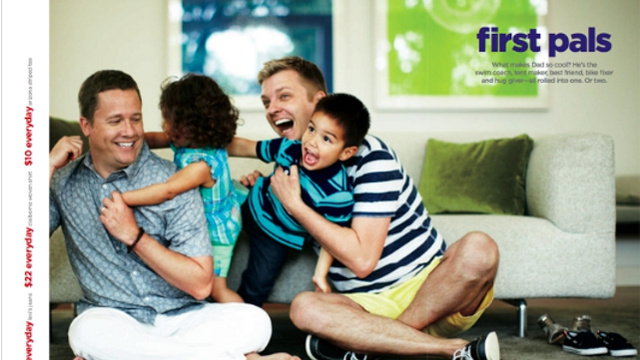 I am in the enviable position of having a $100 J.C. Penny gift card that's majorly burning a hole in my pocket. Yes, me. The woman who "Buys Nothing New."
Okay, let me start at the beginning. I shared a link on my personal Facebook page a few weeks back about how the retailer J.C. Penney is currently running a Father's Day ad that features a real life gay couple and their kids. I had written that "Maybe I should make an exception to my 'Buy Nothing New' rule." And next thing you know, my aunt and uncle in Nebraska had sent me a $100 J.C. Penney gift card. 
Simply for having shared a link on Facebook that they respected.
Gulp, thanks!
So what does the woman who buys nothing new do with a $100 gift card? First of all, I don't think that I've stepped foot into a J.C. Penney since I was a kid, mostly because there isn't one within the Portland city limits. However, there seems to be one at Clackamas Town Center Mall, which isn't too far from Portland.
I've been keeping an eye out for a new comforter for our bedroom for a looong time. The one we have is a down comforter with duvet cover, and frankly I'm sick and tired of the whole lots of blanket over there, hardly any blanket over here thing. I also want this single unit comforter to have a contemporary design. Of course, my first choice is always to hit the Goodwills, but that just doesn't seem to be happening. A quick look through the J.C. Penney website shows me that I can easily fulfill this wish. (And most likely have money leftover.) However, bedding and I are on a need to touch basis, so the purchase needs to be made in person.
However, I hate going to the mall with a passion that burns brighter than a room full of Harvard scholarship students. (Get it? Because they're bright!) So I wanted to bring a friend who I could bounce design ideas off of. Unfortunately, my friends either hate going to mall as much as I do, or are internet friends whose 3000 mile proximity make this endeavor not too workable.
Sasha was sick, Chelsea was on her way to a hot springs weekend retreat, my mother was working on her graduate studies, Lise thought I was joking and my sister selfishly moved to NYC.
Dammit!
Luckily, there is no actual hurry with this errand, so I think I'm going to wait out my friend Sasha's viral invasion. And don't worry, I'll make sure to bring my camera. Because The Non-Consumer Advocate shopping at the mall needs to be documented.
Do you have an aversion to mall shopping, or is it your secret pleasure? Please share your thoughts in the comments action below.
Katy Wolk-Stanley
"Use it up, wear it out, make it do or do without"
Click HERE to follow The Non-Consumer Advocate on Twitter.
Click HERE to join The Non-Consumer Advocate Facebook group.
Click HERE to follow me on Pinterest.