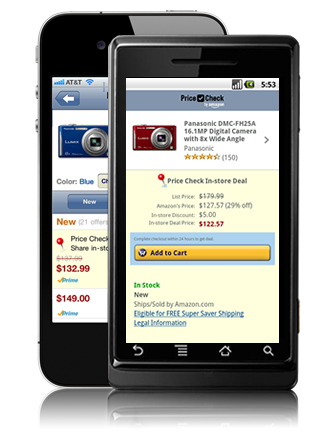 Amazon.com. Cheaper than your local bookstore, easier than getting off the couch and yes, a killer of small businesses across our great nation. And now . . . Amazon.com wants you to go into a brick and mortar store, scan the barcode of the item you want to buy, and then walk empty handed out of that store. And to reward you for price checking their competition, Amazon will pay you $5 if you purchase that item through them within 24 hours.
So, let me get this straight . . . Amazon wants us to walk into a shop which employs our friends, families and neighbors, scan their merchandise and then walk out empty handed and then buy from an online store that's putting them out of business?!
Sure, this special promotion can be utilized at big box stores as well, but at least they're employing local people.
Amazon.com, you have been awarded a big fat Boo-Hiss Award.
Because you suck. Big time.
Katy Wolk-Stanley
"Use it up, wear it out, make it do or do without"
This blog post contains no affiliate links. Because, you know, Amazon.com sucks!
Click HERE to follow The Non-Consumer Advocate on Twitter.
Click HERE to join The Non-Consumer Advocate Facebook group.