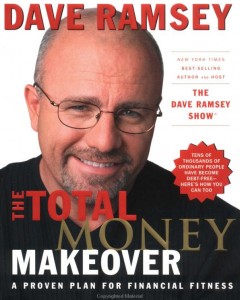 I consider myself to be a happy person. I find pleasure in my work, family and home life. I have hobbies and activities that are satisfying, and enough friends to keep loneliness at bay.
Happy.
However, I also have some debt, a consistently messy house and a few items on my to-do list that never float to the top.
Can a person be happy without being 100% on top of the details of her life?
I love Dave Ramsey, and find his writing to be both entertaining and inspirational. It's filled with reader stories about overcoming debt and general adversity. However, there's never anyone whose story reads "I was in debt, but happy enough. We got out of debt and continued to be happy." It's not exactly a gripping story to skyrocket a book up the bestseller list.
We have some credit debt that is related to our money pit of a house. It's recently been as high as $16,000, but is currently at $3000+. I throw any and all extra money at The Visa Dudes, and know that it should be gone by mid Autumn. Am I in utter and abject misery because of this debt? No way! I'm not proud about it, but I don't let it affect how I feel about my life. We still find fun and cheap family activities, (Star Trek in the Park anyone?) and if there's any deprivation in our lives, I can't think of what that might be.
I am not employing the laser focus that Dave Ramsey followers are instructed to master. My younger son gets twice weekly private Japanese tutoring, martial arts classes and just finished a week long soccer camp. My older son also did the soccer camp and is now taking a lifeguarding class. I just bought a refurbished MacBook to replace my no-longer-fixable 2005 iBook, and I did some recreational Goodwill shopping yesterday. (Bought a glass juice container, a swimsuit for my older son, a T-shirt for my younger son and a fabric lined basket. The swimsuit was the only purchase that could be categorized as an actual "need.")
I do continue to line dry my clothing, pack work lunches, steer clear of the first run theaters and even played host family to the British soccer coaches who came to town to teach in those camps. (Which gave us a sizable discount.)
Of course, my happiness despite debt would be a different story if I weren't gainfully employed, were unable to make the monthly Visa payments or on the verge of having our electricity/phone service/car insurance cut off. I know that my debt is soon to be distant memory.
Life is never going to be 100% perfect, but I'm not going to let that rain on my parade.
Do you feel like your happiness is completely dependent on your financial status? Please share your thoughts in the comments section below.
Katy Wolk-Stanley
"Use it up, wear it out, make it do or do without"