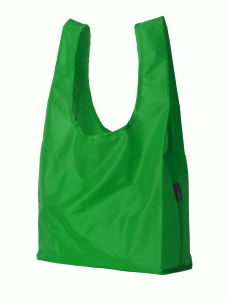 Portland, Oregon has been working towards banning single use plastic bags for a couple of years now. The effort was derailed by a myriad of other issues, (mayoral sex scandal or economic breakdown anyone?) but it's made its way back up the issue ladder and is once again moving towards actually happening.
I received this e-mail from the mayor yesterday:
Dear friends,
Last Friday, I made public the City's draft plan to ban single-use plastic carry-out bags and have stores collect 5-cent charges on paper bags. And over just the past weekend, support for the approach has been on the rise.
First, the Oregonian published an editorial on Saturday supporting our approach. You can read that editorial by clicking on this link: http://www.oregonlive.com/opinion/index.ssf/2010/07/time_to_take_aim_at_plastic_ba.html
Then, on Sunday, Fred Meyer Stores announced their plan to stop using single-use plastic carry-out bags 

in all their Portland stores starting August 1, 2010!

I applaud Fred Meyer for their leadership on this issue. Fred Meyer joins other great brands in our region that have made the transition away from plastic and toward paper and reusable bags. Some stores — like Zupan's Marketplace, Whole Foods and Market of Choice have shifted away from single-use plastic carry-out bags for years. Others, like New Seasons Market, have never offered plastic bags, responding to shoppers' demands for paper and reusable bags.
And great advocacy organizations like Surfrider Foundation and Environment Oregon continue their grassroots outreach, adding thousands of supporters in the region to their efforts to Ban the Bag. To learn more and get involved, go to: http://www.environmentoregon.org/great-pacific-cleanup/local-efforts/portland
So, to add your voice to the conversation about banning plastic bags in Portland, visit www.mayorsamadams.com/bagban, take a look at the proposed ordinance and Frequently Asked Questions, and leave us a comment. 

The deadline for public comments is this Friday, July 23.
It's time for Portland to take action. Portlanders are ready, Portland's businesses are ready, and the approach is right. Please join me and thousands of your friends and neighbors, and remember to thank those stores that are making the move to ban plastic bags.
Sincerely,
Sam Adams
Mayor, City of Portland
And by the way, kudos to Fred Meyer (Kroger) for not waiting for legislation in order to stop handing out those dratted plastic bags!
In celebration of banning plastic bags in all cities, I will be giving away one reusable grocery bag. This Baggu brand bag was given to me by the Salem Saturday Market in lieu of a speaking fee. It folds into a small pouch, and would easily fit into any purse. To say it's "as cute as a button" would not be an understatement.
To enter to win this bag, just put your name in the comments section below. I will randomly choose a winner Thursday, July 22nd at midnight. U.S. residents only, please enter only once. Good luck!
Katy Wolk-Stanley
"Use it up, wear it out make it do or do without"