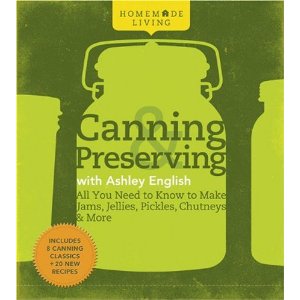 Congratulations to LT, whose canning comment was randomly chosen to win a copy of Homemade Living: Canning & Preserving with Ashley English: All You Need to Know to Make Jams, Jellies, Pickles, Chutneys & More. 127 readers entered to win this book, which was a record number of comments for The Non-Consumer Advocate. (Second prize goes to the Safeway gift card giveaway from last year, which garnered 96 comments.) I guess you guys are really interested in canning! If you were one of the 126 unlucky commenters, fear not, as next week's Monday Giveaway will be a copy of English's Homemade Living: Keep Chickens with Ashley English: All You Need to Know to Care for a Happy Healthy Flock.
Thank you to everyone who entered to win this terrific book. I know my official line is not not buy anything new, but this book could be an official Non-Consumer Advocate exception. 😉
Here's just a small sample of the canning comments:
"I have 2 bags of grapes (picked from our own backyard!) in the freezer waiting for me to take the leap & try my hand at canning. Now I just have to convince my husband that it's enough of a priority to take away time from our various home improvement projects! 

Looks like a great book!"
Namastemana:
"We have been canning for a few years. We started with tomato sauce and every year add a few things. This year we made tomato ketchup for the first time. We don't eat that much so we'll have enough for the whole year. It's so good."
Jill:
"I fondly remember walking into the basement of our 'new to us' century-old farmhouse when I was about 10. I was completely transfixed by the rows of colorful jars all lined up on a shelf – as if in homage to the past residents and as a gift to the new. Clearly, someone had lovingly, painstakingly canned those numerous jars of garden bounty, and all of a sudden, I took to farm life with leaps and bounds. When we moved to our current home, now across the country from that farm house, we discovered a hidden room in the basement with row after row of empty shelving, just waiting for the jars of garden produce. Sadly, I have not had the proper instructions to can safely. For this reason, I would love to receive this book! Thanks for the opportunity, Katy!"
"This is a great book…I currently have a copy from the library (due back soon!) and I really want to own it because my first attempts at canning over the past two years have been less than successful. It is beautiful and easy to understand, and it will be on my Christmas list this year if I don't win."  

Lisa P:
"What a great giveaway! I am really interested in learning how to can correctly and keep window shopping the canning supplies area in my local grocery store. My mom always taught me that canning was "dangerous" and that one could become very sick (although I vaguely recall that her mother canned tons of tomatos & and I didn't hear of anyone becoming ill) so I've been a little wary. I really do want to learn how to can safely & correctly and this book would be my guide. Thanks for the chance."  

"I know I am your sister (and so do you), and I think it is finally time for me to use my sisterly pull to encourage you to PICK ME!!!!! Note from Katy: Winners are randomly chosen, and sisters who write novel length comments are no more likely to win than anyone else.
I was never much of a canner myself, but I have very happy memories of our family canning back in the 70s. This also coincided, you may remember, with Dad reading us all of the Little House Books. Canning was fun, but it also made me feel very safe and secure, seeing our basement freezer room full of pickles, jams and applesauce. Our parents weren't shy about experimenting either. Do you remember the rose petal jam? I seem to recall it was an old Victorian recipe our mother came across. We were fascinated, but man, was that gross!!! Another experiment was washing cucumbers in the washing machine. What an image! Alas, not destined to catch on. The pickles came out bizarrely soggy.
My canning didn't start until we moved to Seattle and our rental came with three mature and very productive plum trees. I had never really cared for plums (too mushy), but this variety (turned out to be Italian Plum) was delicious. However, there were just too many for us to manage, so my mind turned to jam-making. Our family had made plum jam back in the day from plums from our Aunt Joanie's trees, but I always had hated it. Which was unfortunate since Mom and Dad had made rather a lot of it and they kept on giving it to us in our lunches (where we couldn't say no to it). It was very runny and made the bread soggy and had these awful blobs of plum to startle the sensitive palate. But that is another story. So there I was, with about a bushel of plums, but not wanting to gross out the family. My main complaint about that long-ago jam was the (please pardon me now) phlegm-ball-like globs of stewed plums. So I hit on what I like to think of as a stroke complete and utter genius…I ran all the plums through the blender! And it totally worked! Like a charm. No funky texture. No soggy bread. Great jam. And that, Katy (or shall I say, Non-consumer Advokaty), is why I need this book."
Maureen:
"My daughter just married into a canning family. One great grandfather has a huge hobby farm and everyone helps can. This year there is a wonderful picture of the other great grandfather, grandfather and grandson who is 2-1/2, putting the tomatoes thru the mill. The great grandfather just passed away, so this picture will hold a special place in their hearts.
When it came time for wedding favors everyone helped out canning strawberry jam and there is plenty left over!
I would love to give this book to my daughter as a newlywed and a new canner!"
Click here to read all the great comments, and make sure to check back in next Monday for another giveaway! (And if you stuck around for the rest of the week, that would be fine by me.)
Katy Wolk-Stanley
"Use it up, wear it out, make it do or do without"