You know that phrase that sits at the bottom of every blog post? The one that reads, "Use it up, wear it out, make it do or do without?" Well, it's not just there for its good looks, it really is a way of life for me. Not in the sense that I am living a life of deprivation or any such nonsense. I absolutely am "making do" in almost every aspect of my life.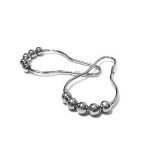 The example I bring to the table today is my shower curtain rings. Yes, I think the shiny metal ones with the tiny silver beads are cool looking, but I'm actually quite content with my cheap-o clear plastic ones. No, they're not going to win any design contests, but I find them inoffensive and (this is the important part here) functional. However, they have a design flaw, which is that they occasionally snap apart from my apparently Hulk-like method of opening and closing them.
So do I buy a whole new set of rings whenever one breaks? No way, fellow Non-Consumers! I have an extra set of clear plastic rings that I picked up at Goodwill for 49¢. (It was missing a single ring.) So whenever I break a ring, I have an extra in reserve.
And I'm going to let you in a little secret. The new clear plastic shower curtain rings and the Goodwill clear plastic rings are a completely different style. This is only notable if you are actually looking to find this proof of my inadequacy. And really, why the heck would you be inspecting my shower curtain rings anyway?!
I expect that the Goodwill set will last me at least another five years, a which point we'll all be living in outer space anyway, which probably would mean no shower curtains, as they tend to flap open in zero gravity.
Katy Wolk-Stanley
"Use it up, wear it out, make it do or do without"