The following is a reprint of a previously published post. Enjoy!
If there's anything I love more than my husband and kids, it's attractively stored stuff. Matching containers holding easy to find and logically corralled tidbits? Katy like!
And before you get all "that chick be crazy," let me defend my thesis, as I know I'm not alone.
Attractive storage is huge business, whether it's for kitchens, bathrooms, bedrooms, cars or offices. The Container Store holds such a draw for me that I have deliberately never step foot on the premises, even though the Portland location sits just a few short blocks away from my favorite Goodwill. Why? Because I know I would posses pretty much zero self discipline once I passed their threshold. (I just spent a few minutes looking through their website, and literally felt an endorphin release that tingled the tips of my toes.) It's better I just stay away from their wallet emptying and cleverly designed products.
Luckily, I'm still able to get my organizational rocks off while shopping from lowly thrift shops and free piles. The key is to keep a consistent storage aesthetic that is also functional. In other words, not a plastic bin next to a wicker basket next to a metal tin.
My medicine cabinet recently underwent an organizational makeover due to someone's Goodwill donation of a sh¶tload of sugar packet containers. I already owned one from a free pile awhile back, so I knew they fit perfectly in my medicine cabinet, while also providing perfect storage for odds and ends like Q-tips, alcohol wipes and such. (Note that I keep Bandaids in vintage tins, which I consider to be the height of sophistication!)
Cost of this upgrade? $2.97.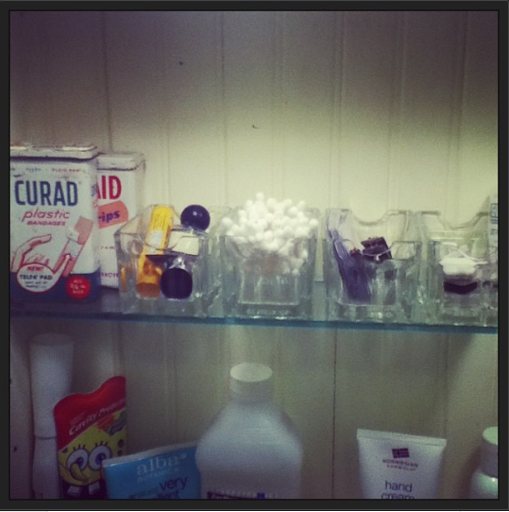 The recent makeover for my 17-year-old son's desk also included a few storage solutions, including a standing paper organizer. It's hard to tell in the photo, but it's Isaac Mizrahi for Target. Of course for me, it was Isaac Mizrahi for Goodwill. 
Cost? $1.99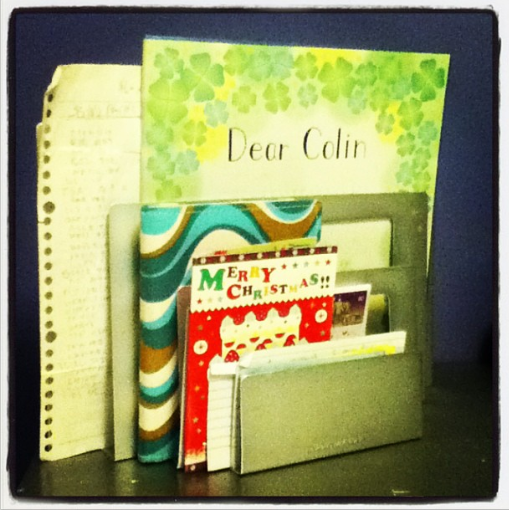 Art supplies: My house = Godzilla: Tokyo. So when I spied this drawered organizer on someone's curb, I screeched to a halt killing a family of squirrels who were crossing the street without harming anyone. The drawers were labeled with a Sharpie, but a minute or two with alcohol wipes erased all memory that the top drawer was for "Pokemon cards."
Cost? Free!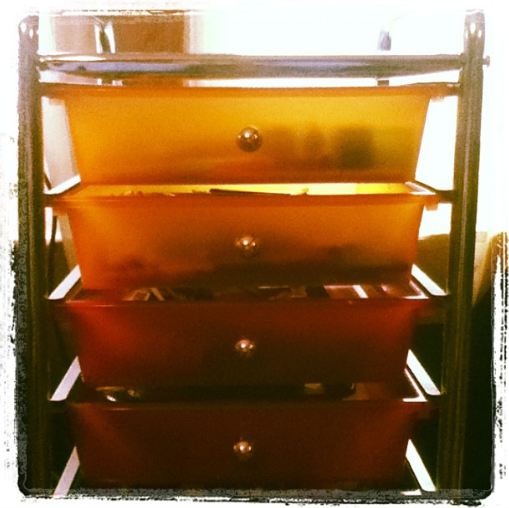 My now high school sons' elementary school lunches were organized using some awesome Korean-made containers that I picked up during a 2005 trip to New York City. I fell in love with their perfect and adjustable food cubbies! Unfortunately my sons both lost their lids within a few years, which pretty much made them useless for their intended purpose. Luckily, I am an alternate use ninja, (real thing, I promise!) so I now utilize the lower halves for my kitchen junk drawer. They work so perfectly for this purpose, you'd think it was their original design.
Cost: Free! (Otherwise would have been garbage.)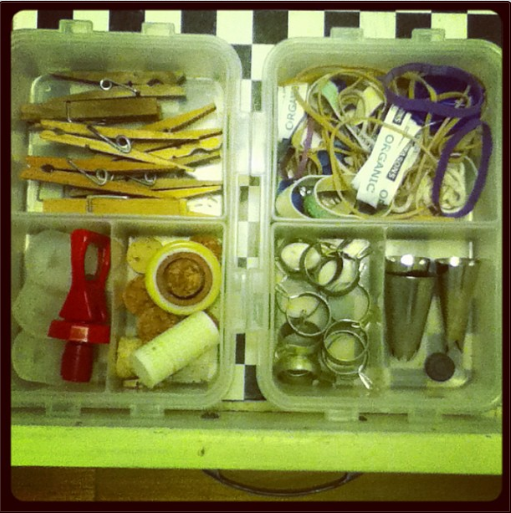 The last organizational porn item I'll share today is familiar to many of you, although I love it so much you can't stop me from sharing it over and over again. Yes, it's my Mod-Podged fabric drawer organizer.  (Made from cereal boxes, leftover Goodwill/Ikea fabric and Mod-Podge.) It's still hard at work keeping my desk drawer organized with love and logic.
Cost? The price of the Mod-Podge. Maybe 75¢?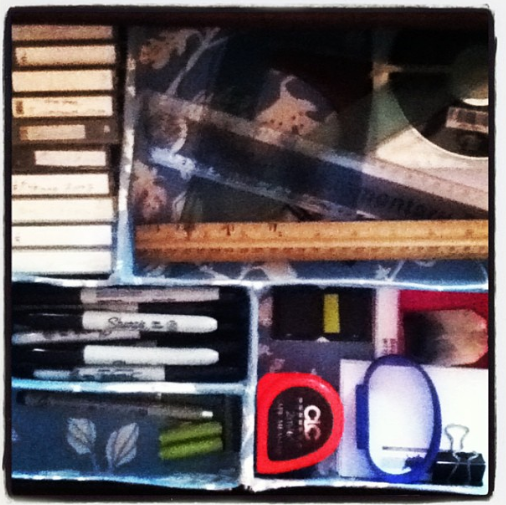 So if you're like me and get overly excited about a well organized home, please know that it can be accomplished using thrift shops, other people's discards, stuff you already own and a dab of creativity.
And I will still continue to stay out of The Container Store, as I know it would be my Kryptonite.
Katy Wolk-Stanley
"Use it up, wear it out, make it do or do without."