You may feel that Pinterest is yet another time wasting social media outlet. And really, I won't give you too much argument on the subject. However, Pinterest is also an amazing source of ideas and inspiration.
AH-MAY-ZING!
Case in point? This mirror topped antique card catalog pinned by HGTV's Emily Henderson. This single image, which was from her blog, reminded me that I too owned an antique card catalog, although it had been relegated to the basement as it was A) Too damned heavy and B) Without a top. (Card catalogs were designed to be stacked, so only the top one would have a solid surface.)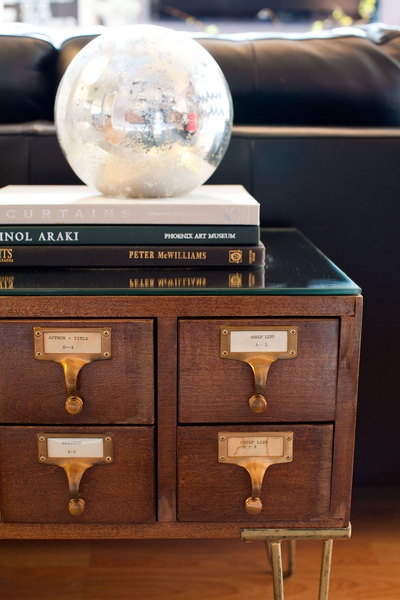 I also owned an extremely thick full length mirror, which I'd picked up at an estate sale, oh . . . a million years ago. A quick measure of the mirror and the card catalog confirmed that I had enough mirror to make my own table topper.
A local mirror and glass company was able to do the cuts, while keeping the edges less than razor sharp for twenty smackeroos. Another local company sold me a set of four non-marring swivel casters for $18. (This would solve the too heavy problem, plus give it an industrial cool vibe.)
Looky: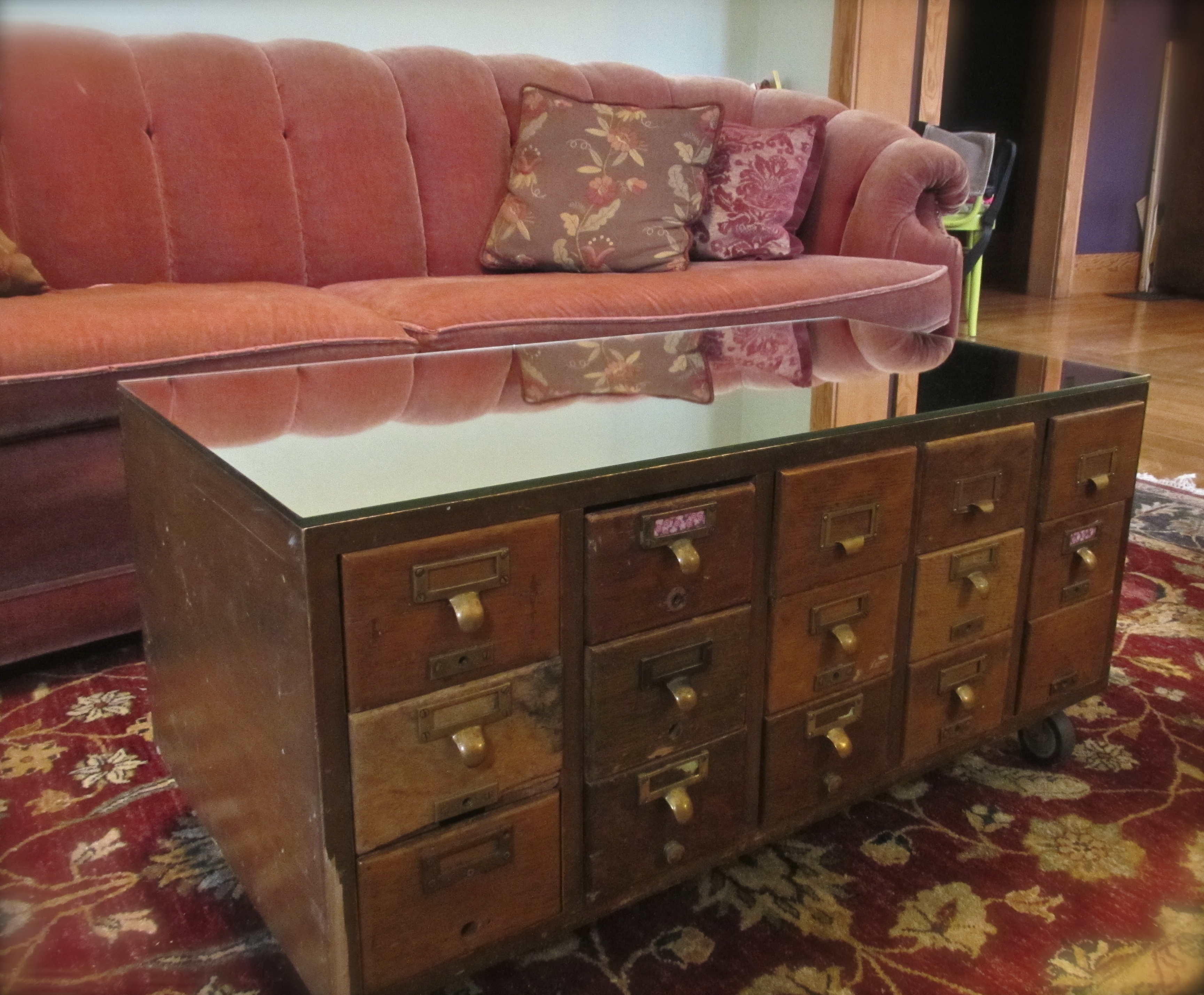 The wood is looking kind of rough, but I'll clean and nourish it for a fresh new look in the next week or so.
Here's the money shot another gratuitous shot, just for fun: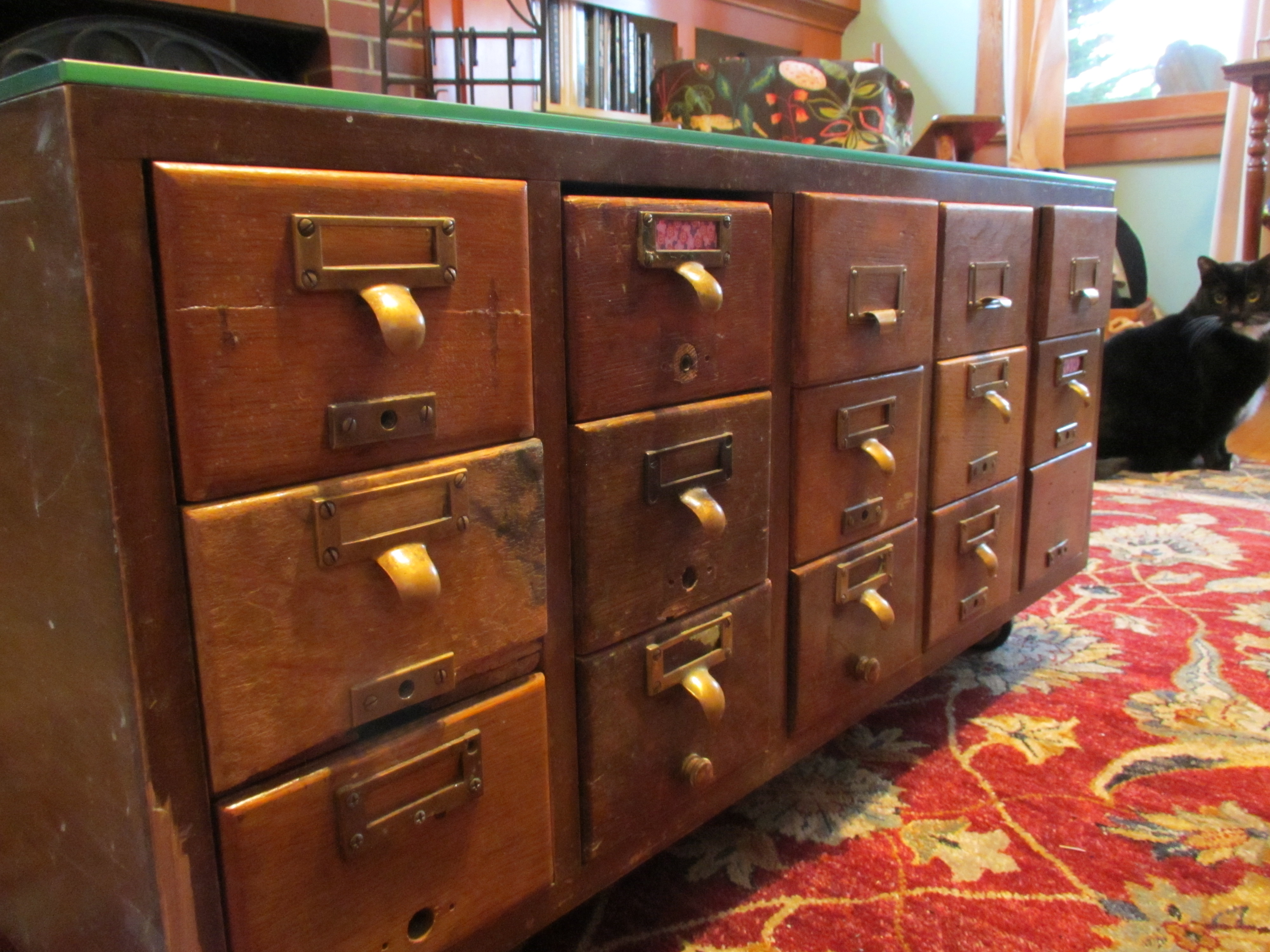 Not only will the wood be lookin' fine very soon, but I plan on slipping some paper detail into the the label pulls. Maybe words from an antique book. Lots of options to play with.
I'm 100% pleased with my new coffee table. I have a lot of upholstered furniture in my living room, so the hard surfaces of this table balance it out well. Not sure what I'll put in the drawers, if anything. We did use this as a coffee table when my older son was a toddler, and he enjoyed putting his little toys into the drawers. I remember that one drawer was even labeled "alligators." (Pause a moment for my heart to melt.)
The best part is that I was able to assemble this piece of furniture without buying anything more than the casters. I did ask the clerk, (the great-grandson of the original owner) if they sold used casters, but such was not the case.
Thank you Pinterest and Emily Henderson, your online presence brings both mindless distraction and inspiration.
A lethal combination.
Katy Wolk-Stanley