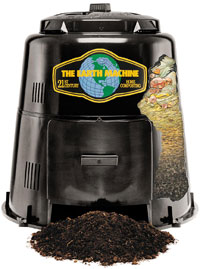 The Oregonian newspaper recently published an article on how we Portlanders will soon be able to start composting our food waste in our yard debris cans, which get curbside pickup.
Portlanders will even be able to compost such food waste as bones and food soiled paper, like pizza boxes and paper towels. This is fantastic news, (especially for me) as chicken bones are one of the components of my monthly pickup that's pretty damned foul after baking in the sun for a month.
But shouldn't we already be composting our food scraps?
The city Metro department  sells discount composters, and according to their website:
"Approximately 500 pounds of material is composted annually in each of these bins."
Wow. I've been composting since 1998, which means that I've diverted 6000 pounds of material from the landfills and yard debris collection areas. 6000 pounds that didn't have to get trucked away from my home. 6000 pounds of organic material that enriched the soil on my property.
It's great that the city is setting up a convenient way for Portlanders to compost their "kitchen scraps," and yard debris. But there's no reason why we should send this black gold away.
The reality is that even in green-friendly Portland, Oregon, the majority of people don't compost. And unfortunately, it takes major government intervention for significant change to occur for most. For some, it's because apartment or condominium living is non-conducive to a compost bin. But for others, it's due to the mindset that starting up a compost pile is a complicated and smelly endeavor. (Note — my compost bin smells just fine.)
eHow, (one of my favorite new how-to sites) has a nice simple page on setting up and maintaining a healthy compost pile, which should get even the most citified beginner on her way.
Do you compost, and was it difficult to get started? Please share your insights in the comments section below.
Katy Wolk-Stanley
"Use it up, wear it out, make it do or do without."