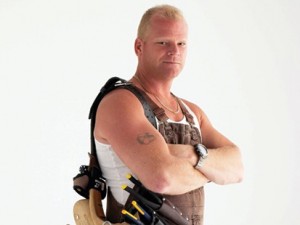 I choose to not buy anything new, but that doesn't mean I'm immune to new stuff cravings. My always-has-been-cable-free household recently converted over to the dark side. (My husband loves soccer, and he really wanted to watch the World Cup games.) So not only was my home graced with the melodic beauty of the vevuzela horn, but Spongebob, iCarly and a huge buttload of HGTV somehow snuck into our lives.
My name is Katy, and I am a HGTV addict!
There does not appear to be even one show on that channel that I am unwilling to watch. I even got my husband in on the action, as Holmes on Homes is a fantastic show for anyone who is about to embark on a remodeling project, which is my husband's unfortunate fate. (That, plus the man bears a striking resemblance to my husband.) The kids are even feeling HGTV's sinister pull, as they guess which house the couples on House Hunting will choose.
"Mom, mom, did they pick the house with the big backyard?"
I don't know what it is, but I feel the worries of the day melt away when HGTV is on. Ahh . . . other people's home ownership.
However, even I am not immune to the consumer draw of having everything be new, shiny, functional and completed. I am suddenly seeing my house with a sharpened eye. The paint in the bathroom behind the sink is chipping off the wall, (caustic hand soap?!) our towels are stained and fraying; and our TV room is designed for two people to sit in comfort, while two others squirm uncomfortably.
What I had once been content with is now getting on my nerves.
I took needle and thread to the towels, which fixed the fraying issues, but did nothing to address the stains. I know the reddish brown splotches on the hand towels are from terra cotta clay, while others will assume it's blood. Which it really does look like. I'm not sure when we last bought towels, but I do know it was at least a couple years before I started doing The Compact in 2007.
I have kept an eye out for new looking Goodwill towels for awhile, but have had no luck. I even looked on Craigslist this morning, which was fruitless.
Luckily, World Cup soccer has ended, which means our days of compulsive cable watching are coming to an end.
I know I will miss having endless TV watching options, but I am looking forward to seeing my house for what it is. Kind of rough around the edges, but perfectly fine otherwise. And those vuvuzela horns? I won't be missing them whatsoever!
Katy Wolk-Stanley
"Use it up, wear it out, make it do or do without"