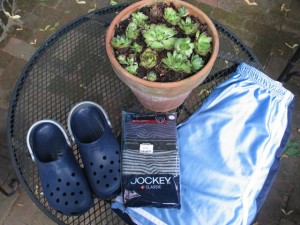 I was on my way back from dropping my son off at his life guarding class this morning, when I  started to have a minor anxiety attack. This came complete with waves of nausea and a feeling that maybe I should start hyperventilating.
It wasn't a good feeling.
I knew I had a ton of stuff to do in the next couple days, so much so that I had no idea where to start. So instead of heading home, I decided that a trip to Goodwill was in order. I've been really good about limiting my Goodwill trips, and haven't set foot in my home away from home for a month or so.
I knew the timing of my day was tight, but frankly, I wasn't up to facing my adult responsibilities without a little something something for myself.
My heart rate started to beat at a regular rate as soon as the automatic doors swooshed open.
Ahh . . . .
I ended up going to two different Goodwills, and here's what I bought:
A pair of Nike brand basketball shorts for my younger son. They're very cool and reversible. $2.50
A new looking pair of Crocs for my younger son. $3.99
A package of brand new Jockey brand underwear, marked $14.99 on the packaging. $2.99
I am fully aware how strange it may seem that I find it relaxing to shop for used underwear, shoes and shorts. Very few women would admit that this is their me time. But I can get a little nutso when I go too many days doing nothing but ferrying kids, cooking, cleaning, hostessing and housekeeping.
And to fully place me back in control of my sensibilities, I pulled the mini-van over to glean a nice big terra cotta flower pot from a free pile on my way home. (Which I promptly filled with compost soil and a handful of hens and chickens.)
I came home feeling somewhat in control of my life again. And all it took was a packet of Goodwill underwear.
Katy Wolk-Stanley
"Use it up, wear it out, make it do or do without"