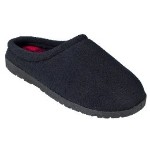 Gathering all the supplies, gifts and specific clothes necessary for my son's imminent trip to Japan has brought me closer to consumer America than I've been in years. Sure, I've bought as much as possible at Goodwill, (his formal outfit and a wristwatch) but there were some things that required a trip to regular stores such as Target and Ikea.
The necessary brand new item? A pair of slippers. The Japanese culture requires that my son bring a pair of slippers for his big ol' size ten feet, as neither shoes in the house nor going barefoot is an option. And my son begged me to not buy him a pair of used slippers. (Okay, even I wouldn't buy used slippers. Well. . . maybe if they were in like-new condition.)
I also needed to buy three 11 X 13 black frames for group photos that my husband took of my son's class. I did look at Goodwill, but wasn't able to find anything that fit the bill.
The Fred Meyer store that is walkable from home no longer sells apparel, plus their frames looked like crap. So I revved up the mini-van and drove out to the closest Target, which actually isn't that far from our house. I motivated myself by bringing along a Starbucks gift card (thanks mom!) and my reusable mug, as I knew there was a coffee spot right inside the entrance.
Thus fortified, I found the spot that sold the one type of men's slippers:
Made in China
Over-packaged
Poor quality
Smelling like a Dupont factory
I then rode the escalator up to the second floor to look at frames, which were all:
Made in China
Poor quality
Not all that cheap anyway
At this point, I figured I might as well drive the five miles or so to Ikea and just buy the frames there. I seemed to recall cheap classic black wooden frames from my one visit a few months back to buy my indoor clothesrack.
$12.99 later, I'm on the freeway and making my way to Ikea, where I found:
That Ikea was out of the black 11 X 13 frames
Which are made in China
That I should have just brought three of the $9.99 frames in white or wood to end my misery.
I did buy three plain solid wood shelves in the as-is section for a project where I'm transforming a useless broom closet into a mini-pantry. And although I did get in line for a yummy treat at the end of my shopping, I got out of line, as I remembered that just because a hot dog is 50¢, doesn't mean that I have to eat it.
I used to love going to Target, and I can totally see the appeal of Ikea — they had four packs of cute clip frames for a dollar. A dollar! But everything I saw was viewed through the lens of know that all this manufacturing of unnecessary and poor quality Stuff has consequence. At the site of manufacture, during shipping, in my home and then at the landfill. I am totally aware that my son's slippers will have nowhere to go except the garbage in less than a year. (At least my sheepskin slippers are mendable, which I know from experience.)
It was culture shock, pure and simple. And that Ikea anxiety dream last night? Just the cherry on top.
Katy Wolk-Stanley
"Use it up, wear it out, make it do or do without"