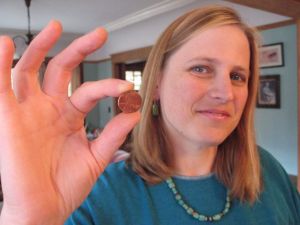 I've been writing a lot recently about happiness, simple living, decluttering and the general challenges of day-to-day life. But I wanted to let you know that my main groove is still money, and how not to spend too much of it.
For example, today I:
Rented (for free) the seed spreader and roller to reseed the backyard lawn, which got destroyed during a soccer party last fall. The extra grass seed was $8.99 from the local nursery. This means we'll have a lawn again for less than ten bucks, and we're doing this early enough that the grass can establish from rain instead of store bought water.
Washed all the towels, cloth napkins and dish towels. I try to only wash these on sunny days, as the outdoor clothesline is the only line that can dry the thick towels within a single day. We don't own enough nice looking towels to wait out the days necessary to dry them on an inside clothesline.
Drove to Goodwill, (batching errands along the way such as dropping off the plastics recycling) returning some too small slacks and buying another pair for my son's Japan trip. He also needed a wrist watch for the trip, and I found him one for $4.99. I chose the one which was ticking along, thus saving the cost of a new battery. It appears to be working perfectly.
I walked to Fred Meyer to buy tomato starts for my garden. They were $1.99 apiece, which I consider to be fabulous bargain, considering that each plant will grow dozens of fresh mouth watering tomatoes. I also bought organic lettuce, which was only 5o¢ more than the non-organic. I will choose organic food, but not if the price difference is astronomical. Bringing my own bags saved me 10¢.
Stopped into Papa Murphy's pizza to buy toppings for tonight's pizza dinner. $1.50 purchased enough pepperoni and sausage for two pizzas. Plus, I brought my own Pyrex container, so it was packaging free.
Enjoyed a lovely hour or so reading a review copy of "Your Money: The Missing Manual" by J.D. Roth while lounging in my luxurious got-it-for-free bed.
Spending as little money as possible is a huge component of my life. Sustainability and simple living are important, but given the choice, I'll gravitate towards the frugality most any day. Luckily, there are very few times when frugality and sustainability do not intertwine.
I just wanted to make sure you knew that The Non-Consumer Advocate had  not shifted over to a blog about decluttering, productivity and gift giving. It's actually about living the rich life on a dime. That other stuff just came along for the ride.
Katy Wolk-Stanley
"Use it up, wear it out, make it do or do without"