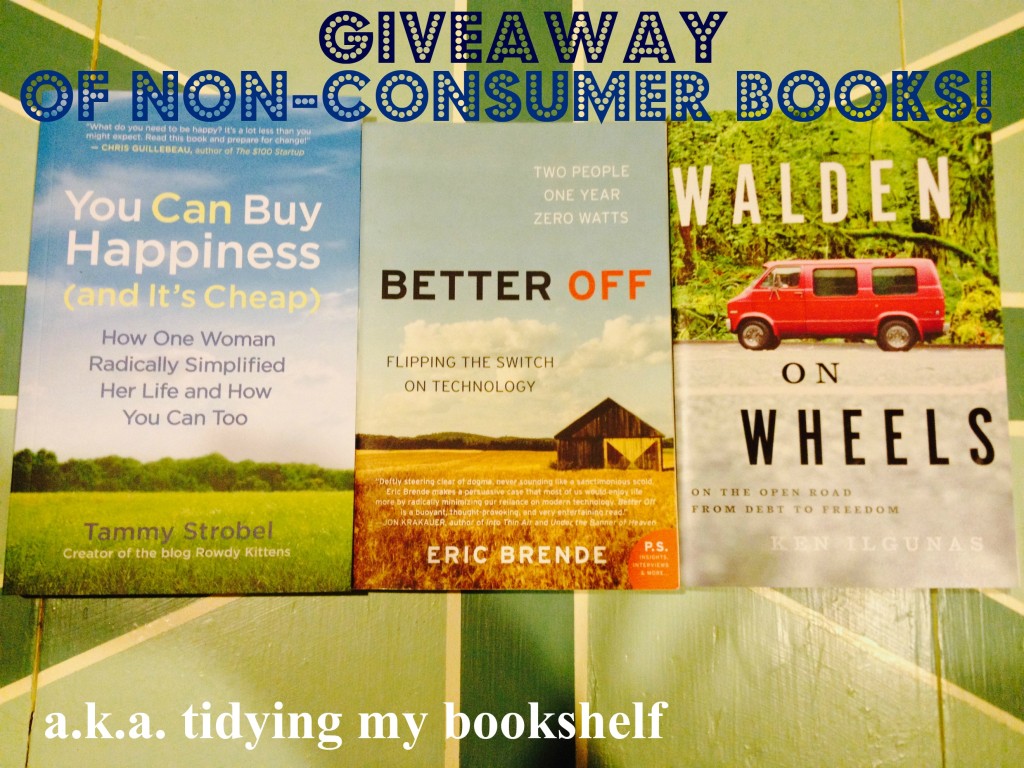 Today is DAY FIVE of Giveaway Week, and I am giving away a non-consumer book bundle to one lucky winner!
The three paperback books included in this giveaway are:
You Can Buy Happiness: How One Woman radically Simplified Her Life and How You Can Too, by my friend Tammy Strobel. Tiny house, few possessions, big contentment.
Better Off: Flipping The Switch on Technology, by Eric Brende. Lives with radical Amish, finds joy in hard work and true happiness in a simple life.
Walden on Wheels: On The Open Road From Debt to Freedom, by Ken Ilgunas. Student loan debt, hard work and secretly living in a van to afford grad school.
These three books all have a person makes a radical life change theme, yet are very different from one another. Great reads looking for a new home.
How to Enter: Write your name in the comments section. That's it!
U.S. Residents only, enter one time only. I will randomly choose a winner Sunday, February 9th at 9 P.M. 
Click HERE to enter Monday's giveaway for TurboTax.
Click HERE to enter Tuesday's giveaway for Happier at Home.
Click HERE to enter Wednesday's giveaway for Upitees "I See London, I See France" underwear.
Click HERE to enter Thursday's giveaway for two $50 vouchers to Castle Ink.
Katy Wolk-Stanley