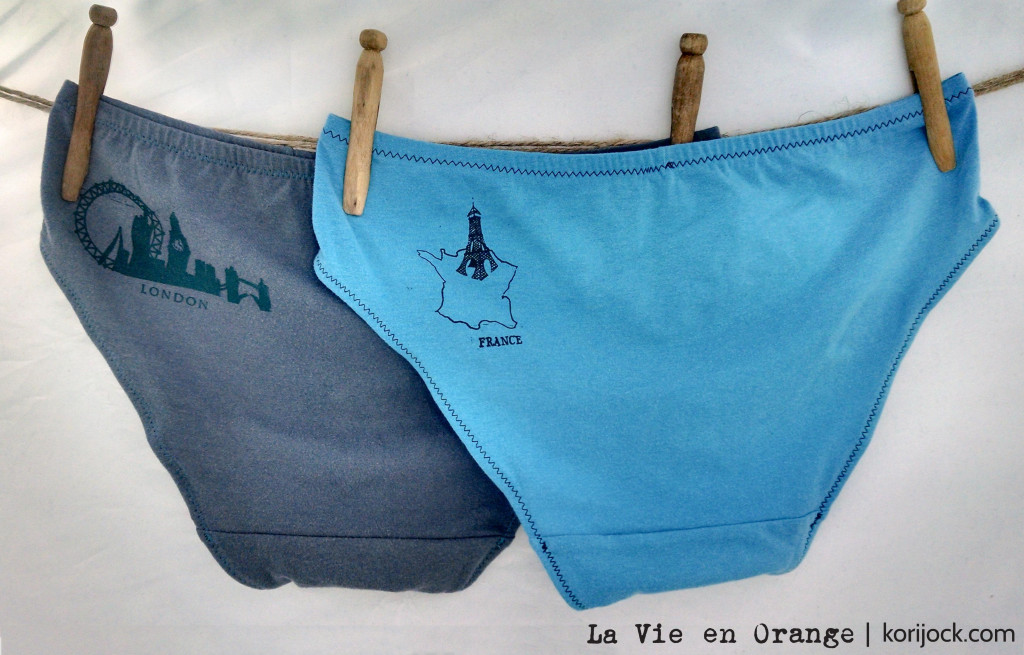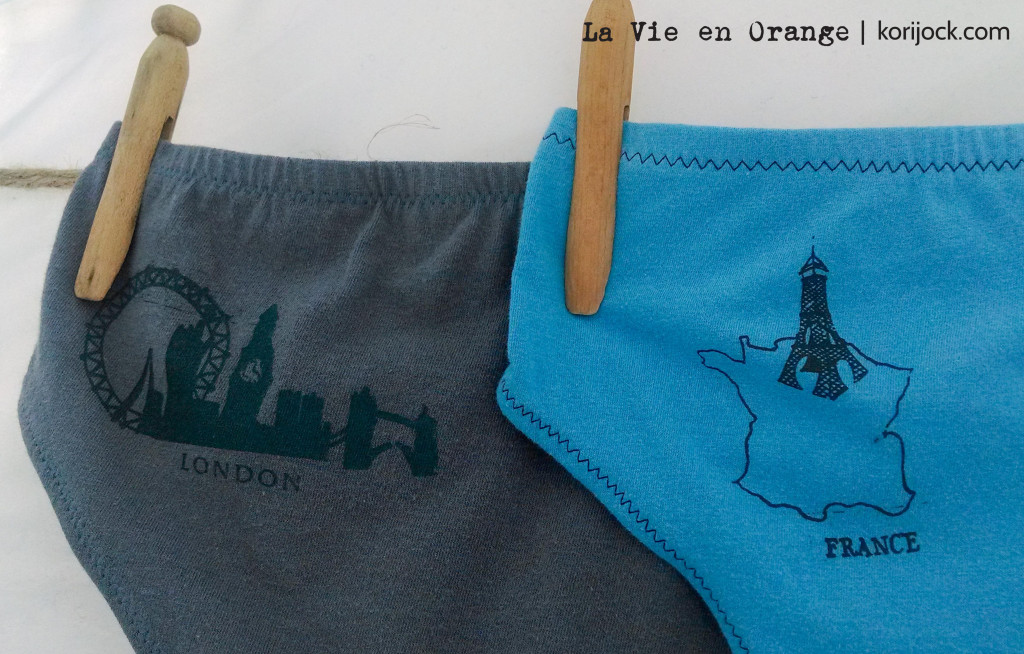 Today is DAY THREE of The Non-Consumer Advocate's GIVEAWAY WEEK, and I have a very special treat for you, which is the opportunity to win a set of La Vie En Orange's I See London, I See France Upitees underwear!
A $45 value!
La Vie en Orange is Kori Jock's one-woman company specializing in creating underwear from thrifted T-shirts. (And let me be the first to say I'm super happy she's not creating T-shirts from thrifted underwear! 😉 ) All kidding aside, I have a pair of these underwear, and they're fantastic! (Here's her Etsy store.)
Here's the information about the underwear:
I see London, I see France, I see super cute underpants! Take these on a European vacation, or just to work to save up for that epic adventure. And hey, maybe you'll grab a latte on your way (if you close your eyes, it's almost a Parisian cafe…)?
Wedgies are practically impossible in their fuller boy-cut
A fully-lined front panel ensures you'll be wearing these on European jaunts for years to come
Eco-friendlier materials: 100% cotton thrifted tshirt (though the shades of gray and turquoise might vary a bit, I promise they will be wonderful), unbleached elastic, water-based screen print inks
Hot Booty Guarantee:  Undies don't fit on the first try? Let me know and we'll do alterations or make an exchange. Anything to make these your new favorites!
Check out the Fit page to make sure these are your perfect size

Your 2 pairs of undies, hand cut, hand screen printed and handmade to your specifications will be on their way to you within 10-14 days.
How to Enter: Write your name in the comments section. That's all!
U.S. Residents only, enter one time only. I will randomly choose a winner Sunday, February 9th at 9 P.M.
Click HERE to enter Monday's giveaway of Turbotax.
Click HERE to enter Tuesday's giveaway of Happier at Home.
Katy Wolk-Stanley