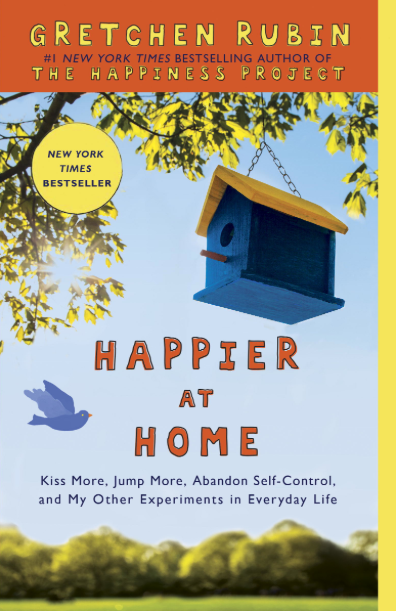 Today is DAY TWO of The Non-Consumer Advocate's GIVEAWAY WEEK! 
Today I have three, count 'em three paperback copies of Gretchen Rubin's Happier at Home: Kiss More, Jump More, Abandon Self-Control, and My Other Experiments in Everyday Life.
Rubin wrote this book as a companion to her wildly successful The Happiness Project, and it's just as enlightening as its predecessor.
"As she conducted the year-long project that became The Happiness Project, Gretchen Rubin realized that her home, in all its aspects, was the most crucial element influencing her happiness.

So, starting in September (the new January), Gretchen dedicated a school year—from September through May—to concentrate on the factors that matter for home, such as possessions, marriage, time, parenthood, body, neighborhood. How can she control the cubicle in her pocket? How might she highlight her family's most treasured possessions? How, for so long, had she overlooked the importance of the sense of smell? And it really was time to replace that dud toaster.

As in The Happiness Project, each month has a theme and finds Gretchen experimenting with several concrete, manageable resolutions meant to boost her happiness. With her signature blend of memoir, research, and experimentation, Gretchen's passion for her subject jumps off the page, and reading just a few chapters of this book will inspire readers to find more happiness in their own lives."
I first read this book in 2012 while on a non-stop flight from Oregon to New York for my Today Show appearance, and was happy to find myself thoroughly engrossed. (Flying is so boring!) I was lucky enough to meet up with Gretchen for dinner, where we discussed the book, our lives and blogging in general. She is a very astute individual, both as a writer and in person.
I thoroughly recommend Happier at Home for anyone who is looking to become more in control of their own happiness.
How to Enter: Write your name and one small thing that makes you happy in the comments section.
U.S. Residents only, enter one time only. I will randomly choose three winners Sunday, February 9th at 9 P.M.
Click HERE to enter Monday's giveaway for a copy of TurboTax.
Katy Wolk-Stanley
"Use it up, wear it out, make it do or do without."
Click HERE to follow The Non-Consumer Advocate on Twitter.
Click HERE to follow The Non-Consumer Advocate on Instagram.
Click HERE to join The Non-Consumer Advocate Facebook group.
Click HERE to follow The Non-Consumer Advocate on Pinterest.
Disclosure: I was given one review copy of Happier at Home as part of this giveaway.