This article is running today over at Jean Chatzky.com. Chatzky, a financial writer and reporter for The Today Show was kind enough to invite me to share a post on her personal blog.
Click HERE to read the article on JeanChatzky.com.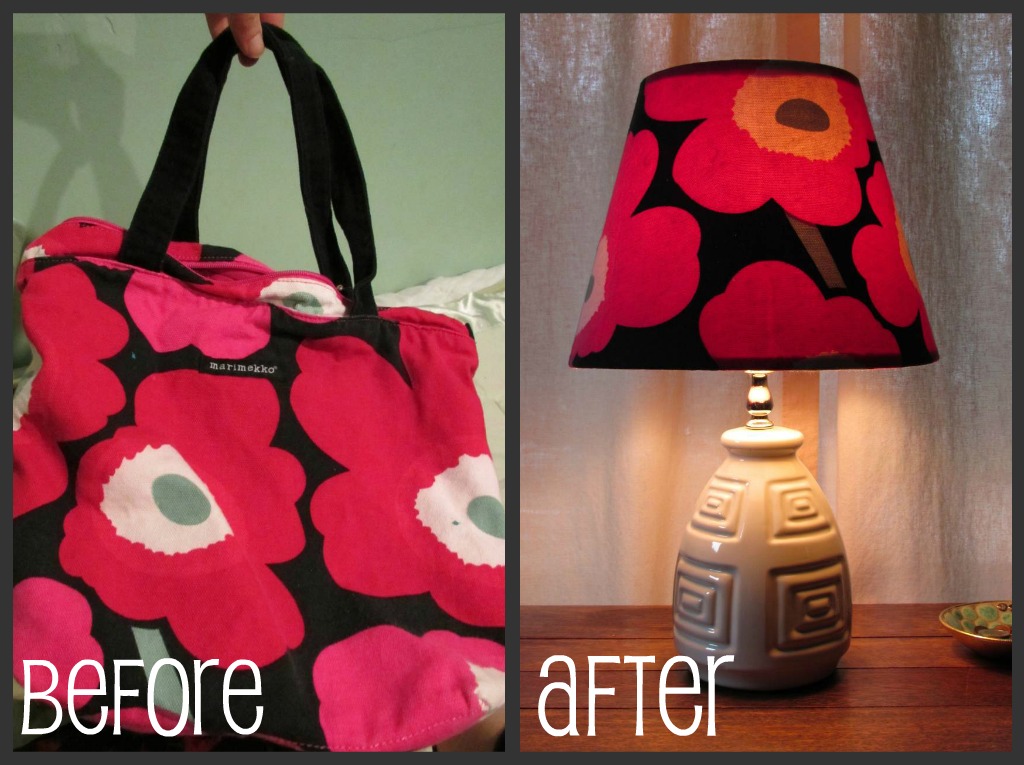 Do you drool over the hip and swanky interiors on the internet only to assume that it's all too rich for your blood? Well I'm here to explain how you can upgrade your home decor for under $20, and oftentimes for free. No, I'm not insane enough to suggest that you can DIY yourself a Jonathan Adler sofa from popsicle sticks, hot glue and the cotton from an aspirin bottle. However, if you follow these simple tips you can make your home look like a million bucks without sacrificing the mortgage payment.
Here are just a few of my favorite under $20 projects:
Paint it: If you can hold a can of spray paint or a paint brush, then the decor world is your oyster. From outdated lamps to scratched up furniture, a fresh coat of paint can transform the most mundane household item into a show stopper. And if you're feeling ambitious, you can even get artistic for a one of a kind look. (Check out this Union Jack table I created from a discarded curbside find!)
Tip — For an extra savings boost, scope out  your local Habitat for Humanity ReStore shop or the mistint paint section of your local hardware store.
Rearrange it: If you're craving a new look, sometimes all it takes is new placement of your furnishings. Find inspiration in magazines, library decor books and on Pinterest; and then hustle up some extra muscle for the big day.
Tip — Avoid pushing all your furniture up against the walls. Place furniture close enough for easy conversation and then point your main piece of furniture, (usually the couch) towards the focal point of your room.
Look Beyond The Fabric Store: Craving new curtains or upholstery but sticker shock keeps you from updating your look? Start looking at all fabric items as potential material for your next project. Whether it's flat sheets transformed into curtains or a $3 tote bag turned into a lampshade, you can find what you need without the high cost of traditional fabric.
Tip — Keep an eye on the clearance sections of big box stores like Target for on-trend fabric tablecloths. They make great curtains!
Clean and Declutter: Everything looks better when it's clean and organized, and as dull at this tip may sound it's definitely the best bang for your buck. So wash those windows and edit your dust catchers for a fresh and inviting look.
Tip — Sell your decluttered stuff through Craigslist, eBay, Amazon, a garage sale or a local consignment shop. What could be better than the combination of a decluttered home and a pumped up savings account?
Start Shopping at Thrift Shops: If the thought of thrift shops gives you the heebie-jeebies, then it's time to give them a second chance. Interior designers love them, antique dealers love them and honey, you know that I love them! (Understatement of the year!) Yes, 99% of the merchandise is not what you're looking for, but it's that 1% that will knock your socks off!
Tip — Check out the thrift shops in affluent neighborhoods, as they will often yield the highest quality and highest value items.
Get Arty: You don't have to spend a ton of money to put artwork on your walls. Mismatched and outdated frames can easily get an updated look for nothing more than the cost of a can of spray paint. I'm a fan of classic black frames, but white, red and trendy yellow look fantastic in all kinds of homes.
Tip — Unsure what to frame? Look in thrift shops and used book stores for illustrated classics and botanical prints that bring instant sophistication to any room. A $5 budget can bring you an entire room full of art.
Light it Up: You don't have to replace an entire light fixture to get a fresh new look. I always keep an eye out for classic vintage glass shades when I'm thrifting, which is about the easiest DIY upgrade known to man. Because the openings are standard sizes, the entire five minute project involves nothing more than attachment of the new shade. Look how much better my kitchen light looks with the addition of a $3.99 Goodwill shade!
Tip — Outdated brassy light fixtures can be brought into the 21st century using a can of oil rubbed bronze spray paint; or maybe even blue, pink or green for the decoratively adventurous.
So whether you're painting, sewing or simply rearranging, an updated new look is always within your financial reach. You just have to look beyond the outdated and scrappy, and know that a magazine-worthy look is within your grasp.
Katy Wolk-Stanley