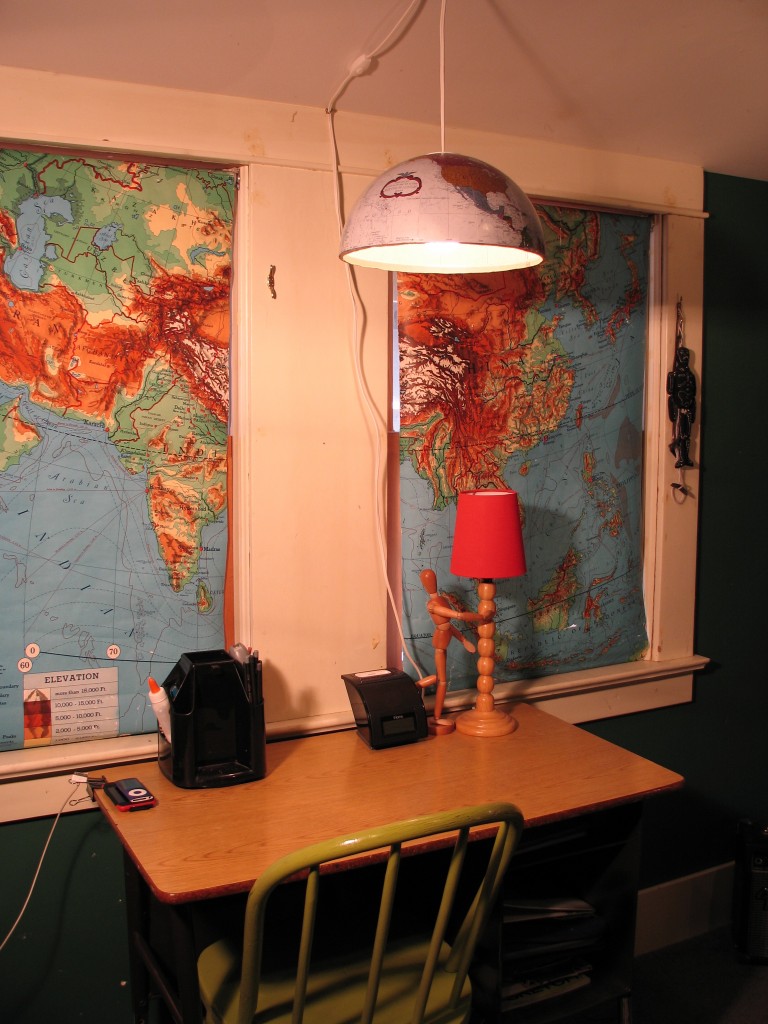 My yearning to create a hanging light fixture from a globe started last year when I read a how-to article  in the local paper.
"Cool!" Said I. "That would look awesome in my son's map blinded room!"
And when I picked up what I think was a Flöffenblööpenk Hemma light fixture cord for $1 in the Ikea seconds department, I knew I was halfway there. However, it took a surprising amount of time to find the perfect globe. Of course, I was only looking in thrift stores, which bafflingly provided either expensive or torn up specimens. But the recent score of a $2.99 globe completed my supplies list for this project.
Globe
Lighting kit
Glue
The directions from the article recommended using an Ex-Acto knife to bisect the globe, but mine is stashed in such a fantastically kid-proof locale as to be somewhat adult-proof as well. Luckily, I realized that our mat cutter would provide the perfect solution, as the handle/blade thingy (real name, I swear!) would work just as well, if not better. It looks like this: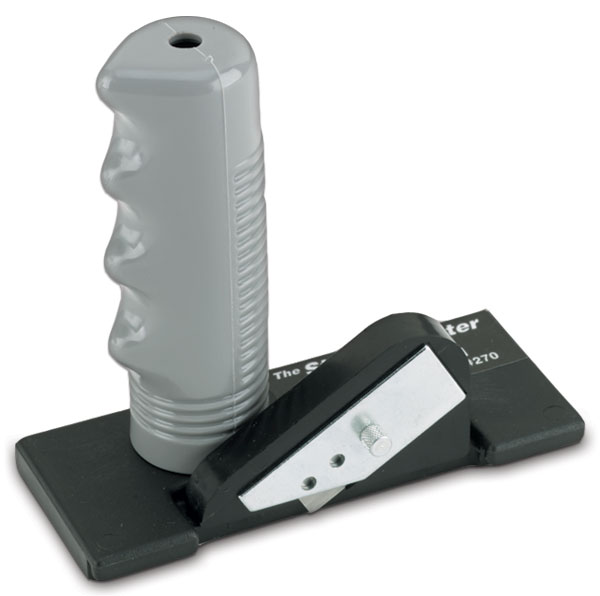 It took much longer to cut the globe in half than I had anticipated, (at least half an hour) but I knew that taking my time was key to not pairing this project with a trip to the ER. (It turns out that there's a super thick band of strong cardboard at the equator.)
Once the globe was cut in half, I held the lighting to the top, (North Pole) and traced how big I needed the circle to be. (This step was much easier as this cardboard was fairly thin.) I then popped the fixture through and glued it into place. At first I used my hot glue gun, bit this proved to be a bad idea it requires a person to work fast, which is not my strong suit. (I accidentally tore a piece of the map off the top, which resulted in a large amount of indelicate wordage. Luckily, I was able to Mod-Podge that piece back in place.) What worked for me was epoxy glue.
Installation was a matter of screwing a couple of hooks into the ceiling and wall. And finding a stud was a non-issue, as this fixture weighs next to nothing.
Here's a few extra pictures for your viewing pleasure. Sorry that the photos are less than stellar, but my point-and-shoot is somewhat crappy, and my son's room has dark green walls which make it darker than King Tut's tomb.
Total cost for my globe light? $2.50! 
This project was extremely easy, as it required no significant skills, nor did it demand breaking out the power tools. And for those of you who wonder if perhaps my son's room is getting a bit too map-themey, I agree. However, I do plan on sewing up a couple of map fabric pillow cases as a last hurrah. Then I'll be done. Probably.
And of course, I will make a second fixture for my older son's room, as each globe provides for two!
Katy Wolk-Stanley
"Use it up, wear it out, make it do or do without"
Click HERE to follow The Non-Consumer Advocate on Twitter.
Click HERE to join The Non-Consumer Advocate Facebook group.
Click HERE to follow The Non-Consumer Advocate on Pinterest.
This project was shared on Today's Creative Blog.