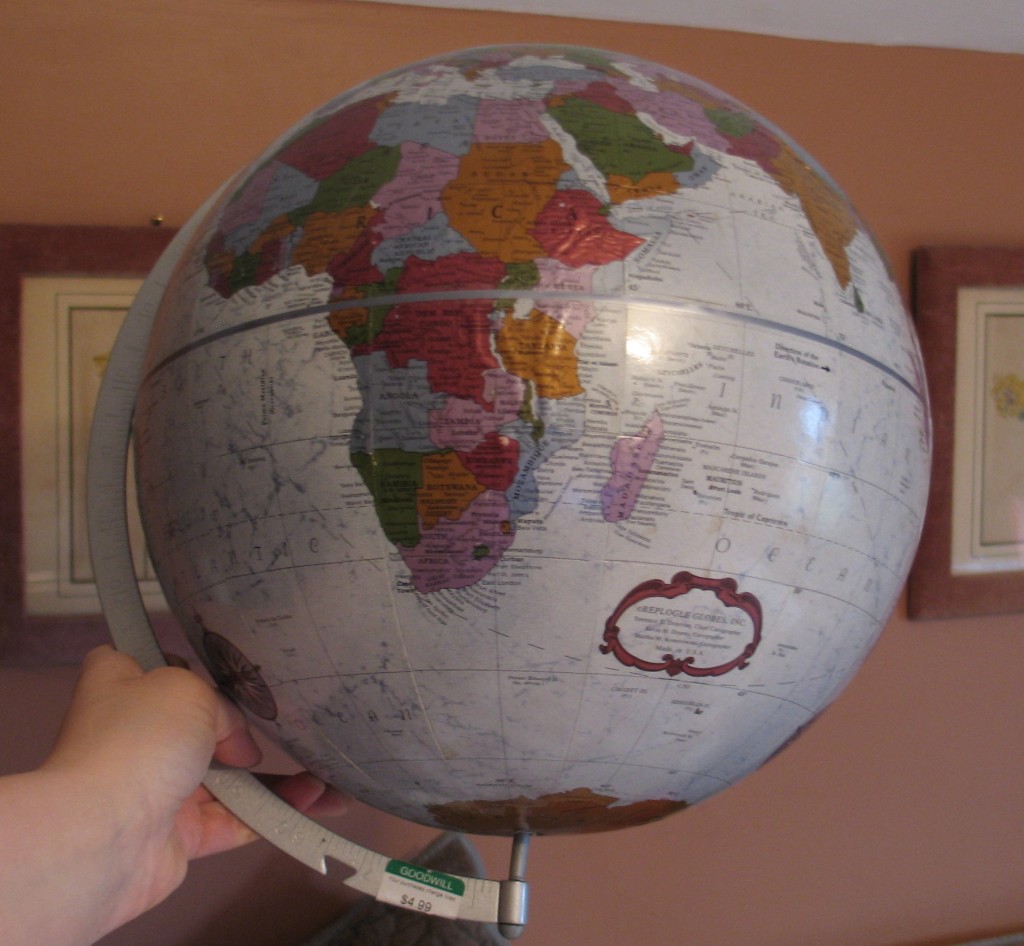 If you're on Facebook, it's hard not to suffer from a generous helping of F.O.M.O., ("Fear of Missing Out.") Your friends are lying poolside in Hawaii, accomplishing bodily perfection at Crossfit and then enjoying drinks with their many, many friends. Meanwhile, you're slumped in front of Storage Wars while heading into week two of a nasty cold that provides an ungodly amount of mucous. (Sadly, a real example from my current life.)
Luckily, I don't have to fear that I'm missing out. I know I'm missing out!
However, my mother is currently on her spring break from grad school in Nebraska, which means that I have someone to take me to lunch, listen to me vent  and partner up with for guest cottage cleanings sessions.
And afterwards, when I have to drive across town to pick up my son, it's the perfect opportunity to stop into the neighborhood Goodwill. And whattayaknow? There's a great globe, perfect for the globe-upcycled-into-hanging-lamp project that I've been  wanting to construct! And even better, they charge me $2.99 instead of the marked $4.99, as it's missing the base.
And my evening then consists of constructing said light fixture instead of slumping. And frankly, I'd rather be doing this than lounging poolside in Hawaii, sweating at Crossfit or drinking with friends.
I guess I'm not missing out after all.
Katy Wolk-Stanley
"Use it up, wear it out, make it do or do without"
Click HERE to follow The Non-Consumer Advocate on Twitter.
Click HERE to join The Non-Consumer Advocate Facebook group.
Click HERE to follow The Non-Consumer Advocate on Pinterest.