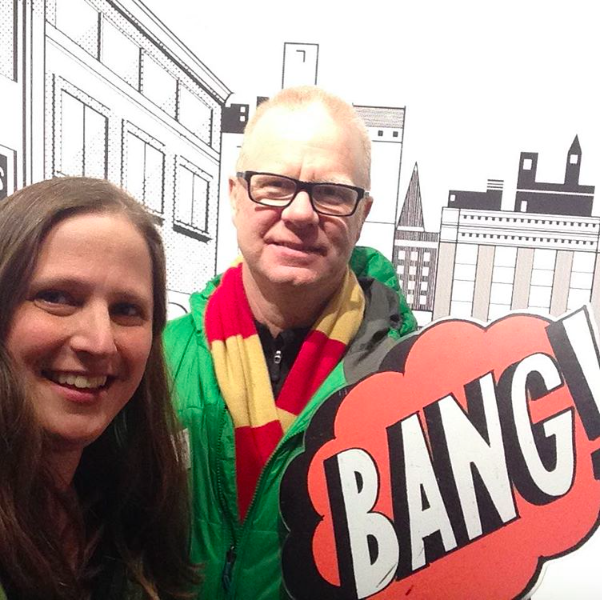 Yesterday was my 49th birthday, which prompted my family of four to brave the cold and wind for my Birthday Day of Adventures. We're laughably broke since we just paid $15,500 for our sons' winter college tuition/room/board, so our day had a very specific theme of:
Fun, but cheap. Really cheap. No seriously, this needs to be cheap. Cheap!
We drove to the big Costco that features an indoor eating area. The four of us each ordered one of their famous $1.50 Polish dogs, which comes with a soda. I rarely if ever drink soda, so I treated myself to a half cup of root beer, which is my favorite. Money spent: $6.00
We then popped over to the nearby Ikea where we each enjoyed a free coffee, thank to the Ikea family program. Money spent: $0.
We pointed our minivan towards downtown Portland, stopping along the way at Voodoo Donuts for our free dozen donuts. (I used a gift certificate for a free dozen donuts per month.) Money spent: $0
We then went to The Oregon Historical Society Museum, which is free for Multnomah County residents. They had an amazing exhibit on Comic City, USA, which was so amazing that we didn't get to even a single other area of the museum! Money spent: $0
Although we could have walked, the horrifically cold wind put us back into the minivan, where we drove over to Powell's City of Books to wander around the stacks. I spent $15 from a gift card that's been gathering dust in my wallet to buy a pound of locally roasted coffee beans. The check-out guy laughed at my purchase, saying that "Hey, I guess we do sell everything!" To which I replied, "This is my new plan to sell books for groceries." Money spent: $0
The next stop was the Regal movie theater inside of Pioneer place, as I had a pass to see a free screening of A Monster Calls. Unfortunately, the movie was booked into a very small 116 seat theater, so we weren't able to be seated. The PR rep felt sorry for me, and took my information and told me that she was going to send me four movie vouchers to be used for a movie at a later time. Yes, we waited in line for nothing, but I was able to score a free bag of popcorn as it was my birthday month. (I'd apparently signed up for a the Regal Rewards program at some point.) Plus, the company was good. Money spent: $0
Our last stop was at the Pho Oregon restaurant across town, where we enjoyed huge steaming bowls of Vietnamese soup. My younger son and I shared a single bowl, which was plenty for the two of us. Money spent: $33.
Stomachs sated, we finally headed home, changed into pajamas and stuck a candle into a donut for a rousing chorus of "Happy birthday to you." We watched the movie Tracks on Netflix, which was a treat since it simply never happens that the four of us sit down to enjoy the same movie. Money spent: $0
I dedicated the $19 that from my 2016 Found Change Challenge to the day, so our out of pocket expenses came to $14, plus $6.60 in parking fees. I'd have to say that $20.60 is not too shabby for an entire day of birthday adventures. Even for the laughably broke.
Now your turn. What frugal things have you been up to?
Katy Wolk-Stanley
"Use it up, wear it out, make it do or do without."
Click HERE to follow The Non-Consumer Advocate on Twitter.
Click HERE to follow The Non-Consumer Advocate on Instagram.
Click HERE to join The Non-Consumer Advocate Facebook group.
Click HERE to follow The Non-Consumer Advocate on Pinterest.