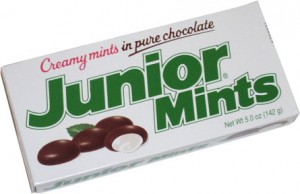 There are many opportunities to save money that are on the wrong side of my moral compass. I will not switch price tags, reuse stamps or download free music from file sharing sites. Seriously, I remember a Christmas party from years back when a friend's boyfriend (now husband) bragged about switching price tags from a small Christmas tree to a larger one. He was proud of his "good deal," and everyone there applauded his ingenuity. I just thought of him as a thief!
But as much as I think of myself as an honest person, there are a few things I do that you might not. One example of this is bringing my own snacks to the movies. I know this is against the policy of most theaters, but I just can't bring myself to pay $3.50 for a box of candy. In other areas of my apparently segmented mind I believe that not being able to afford something does not excuse rule breaking, but this one category somehow breaks through my rigid moral code. I'm a Junior Mint enthusiast, although I only eat them when I'm in a movie theater. (Never during the credits, has to be the main attraction!)
And yes, I feel no guilt.
I asked my Twitter and Non-Consumer Advocate Facebook followers (both personal Facebook and official Non-Consumer Advocate group) if they brought their own candy to the theater, and if so, did it make them feel guilty, and this is what I heard:
From Julia: "yes and no. They gouge us at the ticket booth. Do they feel guilty? My point exactly."

From Leslie: "Yes, and no way. There was some angst over how to explain to my younger kids why I was breaking the rules (especially once they were able to read the signs at the theater). But I explained that it was either that or no snacks. They got over it pretty quickly."

From Susan: "We compromise – bring drinks and candy but buy popcorn."

From Julie: "I'm so cheap I take them to the $1.50 movie AND sneak in our own snacks. No way around it when paying for 6!"

From Tina: "My sister-in-law is the queen of smuggled movie snacks. Best one: fried chicken and ice cream. She said they had pancakes one time, with syrup…. Beer…. burritos… she makes her own screwdrivers in the movie… Chinese take-out… Soup… You name it."

And the lone dissenter from Twitter:

From RobbieKay: "I don't because I'm a rule follower, but I resent not being able to bring my own."
In all, I got 20 replies to this question, and only one person was against bringing her own candy. Yet if I had any Twitter followers who owned movie theaters, I'm sure the response would have been very different. The cinemas that we frequent have owners who are people, not corporations. And the majority of their profits are probably from the concessions stand NOT the $1 – $3 admission fee. We do buy occasionally slices of pizza from The Bagdad Theater, as I'm not going to smuggle in my own pizza. And I stop short of Tina's sister-in-law's propensity to set up an entire luncheon buffet when seeing a movie.
How about you? Do you bring your own snacks when seeing movies? And if so, are you racked with guilt?
Please share your thoughts in the comments section below.
Katy Wolk-Stanley
"Use it up, wear it out, make it do or do without"