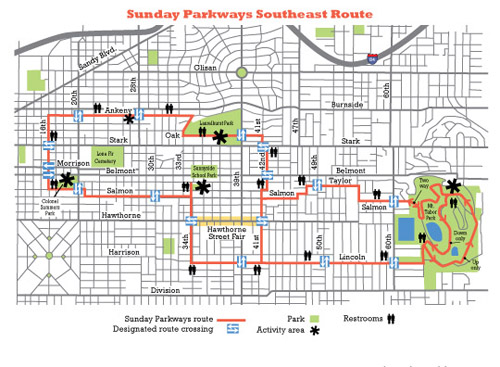 I'm sitting on my front porch right now watching hundreds of cyclists cruising past my house. Because yes, today is the Sunday Parkways event that closes down nine miles of city streets to motorized traffic. And my street, which is already rife with bikers, (we're on an official bike route) becomes a cyclist's dream.
No cars.
There are different routes for those who are looking for a "relatively flat loop" as well as a "more challenging, 4-mile Mt Tabor loop will be optional to summit the only volcano in the City limits."
Sign me up for the relatively flat loop!
So instead of spending an hour or two writing a blog post, I'm off to slather on the sunscreen and pull out the family's bicycles. And then later, when it's nice and hot, we'll be setting up a lemonade stand. Because those cyclists get nice and thirsty. 😀
Katy Wolk-Stanley
"Use it up, wear it out, make it do or do without"