I have sold through eBay here and there through the years, and even had my own eBay store back in the day. (BTW, the "day" was 2005-6, so it's been awhile.) And unlike many others, I think eBay has been good to me, as their worldwide customer base has allowed me to find buyers who were more than happy to bid up my thrifted finds.
But I just kept hearing about how much sellers prefer Etsy over eBay, so I decided to give it a try.
Having sold hundreds of items on eBay over the years, I was not intimidated by the process of putting together a listing, as what could be more complicated than eBay in 2005?! My only concern was being able to take professional enough photos using my iPhone, which is currently my only camera. (I dropped my digital camera this summer and have been happily making do ever since.)
Continuing on with my make it do mindset, I put together a completely functional photo studio using the back of a outgrown Transformers movie poster and bits of tape. I set it all up on the front porch to take advantage of the waning afternoon light. Here, see for yourself: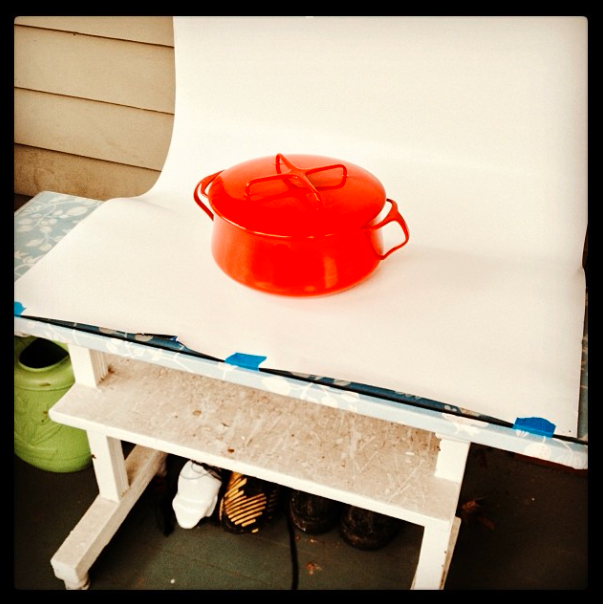 Soccer cleats? Check. Watering can? Check. Table previously featured on the blog? Check.
Here's how that photo turned out: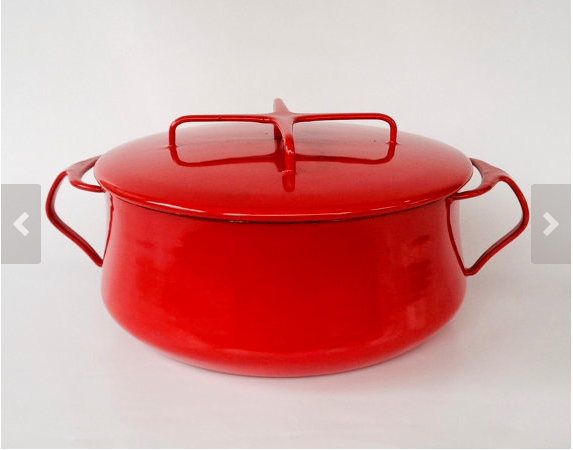 I've noticed that a lot of Etsy sellers photograph their wares attractively styled, but I prefer a plain white background, as it's easier to keep a consistent look. Plus, my goal was to photograph as many things as possible before I lost the light. So no fussy styling for me! Vanessa from Thriftcore often photographs her Etsy items with extra fun doo-dads, which is kind of fun, plus gives her smaller items a more substantial look.

I only got a chance to put six listings together before the laptop was appropriated by my son, who had homework to do.  (Homework trumps Etsy!) But my plan is to bust out another dozen or so listings today.
How does Etsy compare to eBay?
Etsy is only for selling handmade goods, supplies for handmade goods and vintage (20+ years old) items.
eBay is for selling almost everything else. (No weapons, explosive stuff, etc.)
Etsy charges 20¢ per 30-day period for a listing, and 3.5% when it sells.
eBay charges mostly nothing to list an item, but then charges an average of 12% when it sells.
Etsy has you set the price, no auctions.
eBay allows you to choose either an auction or fixed price. The auction option is great for items that have the potential to be bid up up nice and high. I once bought an armload of Sasha dolls for $4-$5 apiece, and quickly sold them on eBay for between $199 and $1000 apiece. I would never thought the one doll would sell for a thousand dollars, so it was better to have sold her through an auction. And let's not dismiss that eBay has a much larger customer base, so your items have the potential to be bid up very high.
I may be wrong, but Etsy doesn't seem to have a function to calculate postage based on weight the way that eBay does, so I may have overpriced my shipping as a result.
I recently put together two listings on eBay. One was for a fat stack of Atomic Ranch magazines, and the other was for a small antique alabaster bust. Although the bust sold for $96.75, and I think I paid $8 for her, I most likely would have done better listing her on Etsy and asking $150. However, the magazines would not have been eligible to be sold on Etsy, so I made the right choice to get them listed on eBay. (I sold for them for $63.05, after picking them up for a quarter apiece at the Title Wave used library book store.)
I still need to prettify my Etsy store, as well as write up a better store description, but for now it's open for business.
I have written it before and I will continue to write it forever, but waiting to do something perfectly before you just do it is a very bad policy. Get over your hesitancy and just get going with life! (Unless it's brain surgery, then please, do become an expert before you do that.) Is my Etsy store the cutest store with the most adorable photos, listing hundreds of items? Absolutely not! But it is open for business, and until I make my awesome thrifted finds available for purchase, no one can ever buy them.
Click HERE to visit my Etsy shop, which I am calling "NonConsumerAdvocate." (Hey, gotta make it easy to find!)
Do you sell through eBay or Etsy? Please share your opinions in the comments section below.
Katy Wolk-Stanley