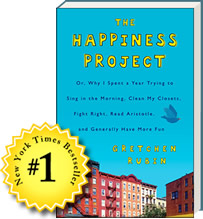 One of my favorite aphorisms is that every day is a fresh start. No, not in a Groundhog Day manner where we're all doomed to repeat the same hideous day over and over again, but each day as a brand new opportunity. I suppose this is similar to Alcoholics Anonymous' "One day at a time," but I prefer my own wording. I say it to my kids when they're having a rough day, and I say it to myself when everything seems to be stacking up against me.
Yes, yesterday was difficult from start to finish, but today is a brand new day. (This is just an example, as yesterday was actually lovely 😉 )
For me, this is the key to living an upbeat life. Making sure I have things to look forward to, (a walk with a friend, or some form of social get together) and continually recharging my opportunities for happiness.
So if today is rotten to the core, remember that tomorrow is always a fresh start.
For those of you who have not read Gretchen Rubin's The Happiness Project, please note that is now available in paperback. I highly recommend this engaging, life changing book!
Katy Wolk-Stanley
"Use it up, wear it out, make it do or do without"