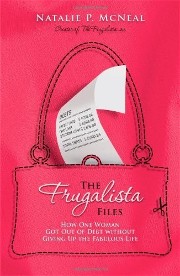 Umm . . . this post accidentally got parked in draft form, even though I wrote it in time for the February 1st start time. All I can say is, Natalie. . . so sorry. Whoops.
For the past four years, The Frugalista's Natalie McNeal has set aside the month of February as a No Buy Month. (Although last year was dedicated to all things culinary as a "dine-in month.") This break from her normally fabulous Miami life means no restaurant meals, no manicures, no beauty parlor and completely absolutely no recreational shopping. You may scoff at Natalie's version of deprivation, but Natalie is young and single and her social life centers on all that Miami has to offer.
And 2011 is no exception.
This year, not only is Natalie spreading the news of non-shopping, but is also publicizing her book, The Frugalista Files: How One Woman Got Out of Debt Without Giving Up The Fabulous Life. Which means that that the No Buy Month is all over the interweb, radio , print media and television. Because even though media is enjoying the story of how frugality is yesterday's news, there's not one among us who couldn't benefit from a bit of purse tightening.
I followed McNeal's No Buy Month last year, although I remember that I did end up taking the kids to a second run movie about three weeks in. (Fear not, I had a BOGO coupon.) I am not doing a no buy month this year, although I have greatly ratcheted down the recreational shopping over the past year, which has coincided with getting my house decluttered. Yes, even thrift store shopping. It seems pointless for me to work hard to rid my home of unnecessary items only to fill it back up again.
Today was an official snow day here in Portland, Oregon, which means that I had the kids home from school. The 15 year old took it as an opportunity to sleep until afternoon, but the 12 year old was up bright and early. I had some errands to do, so he and I trudged out into the used to be snow, (seriously, there was only a light dusting of snow) and deposited checks into the credit union and then stopped into Saint Cupcake to buy him a teeny tiny dot cupcake for the not so frugal price of $1.50. (That's 50¢ per bite.) Luckily, this was our only expense, as I happened to possess an Avalon Arcade free admission coupon in my purse, which is an awesome deal, as it also includes a fat bag of nickels to play the games. The two of us played Skee-Ball, arcade games and pinball, and of course Coin Girl scoured the floor and machines for lost coins. (I found at least a dollar in nickels!) We ran out of oomph before we ran out of nickels, and stopped in to Fred Meyer on our way home, where my son was treated to a free cookie from the bakery department. A $1 lemonade was paid for with nickels.
So, I may not officially be doing an official Frugalista No Buy Month, but that is just a technicality. Because every month is No Buy Month here at casa Wolk-Stanley.
For those of you who have not read McNeal's The Frugalista Files: How One Woman Got Out of Debt Without Giving Up The Fabulous Life, you're in for a treat. This diary format book is a fun and inspiring read, which I think I breezed through in less than 24 hours.
She's frugal, she's fabulous, she's THE Frugalista, and I bet each No Buy Month gets a little bit easier.
Katy Wolk-Stanley
"Use it up, wear it out, make it do or do without"