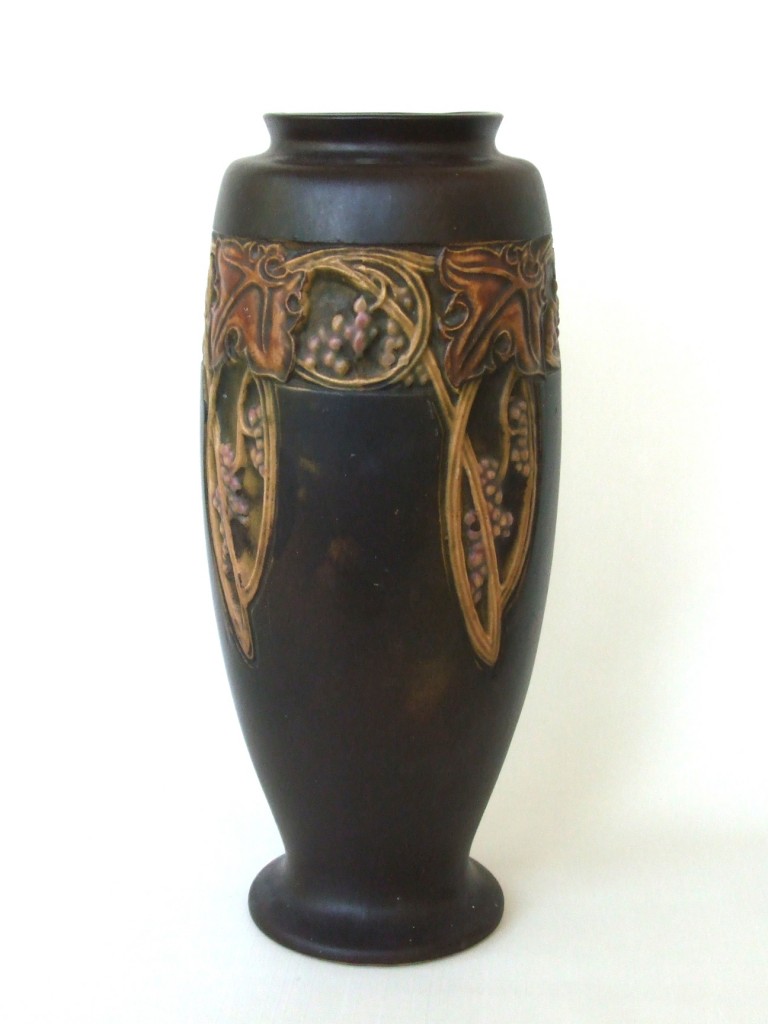 Today's 
Fabulous Frugal Find
is from 
Laura
, whose trash picked Roseville vase is brag-worthy enough to share with The Non-Consumer Advocate readers.
Katy Wolk-Stanley
"Use it up, wear it out, make it do or do without"
Stop and Smell the Rosevilles
I'm a peddling peddler; I love cycling and selling things in my online shop, Laura's Last Ditch.  Wedding two interests by searching for wares on my bike rides, trash day eve sometimes finds me tooling through the neighborhood, scouting cast-offs ripe for rescue. I've found countless items, some worth hundreds of dollars. With a large pannier-style bike basket and a trio of bungee cords, I heap a head-turning load on my bicycle.
I've inherited a love of art pottery from my dad. He admires–and sometimes purchases–Roseville vases and hanging planters when we go antiquing together; I tend to browse only, unwilling to pay the price attached to the finds I most appreciate. Imagine my chart-topping glee, then, when I slowed my bike to peer into an inauspicious curbside box crowned by a dirty garden hose and other landfill-bound detritus, to find a forsaken Roseville vase, whose sole purpose, for years, obviously, had been to shelter the six- and eight-legged denizens of the garage.
Were I to cling to my finds, the house would mimic an episode of Hoarders. Instead, I turn the merchandise I acquire, marrying occupation with a lifelong near-obsession with frugality and waste reduction. I was green back when it was only a color.
This time was different, though. It's not every day you trash pick Roseville. And this was a gorgeous pattern. It fortuitously matched the dining room, and the china cabinet was serendipitously bare. A chip in the vase compromised its value but not its aesthetic appeal. All of this pointed to the irrefutable fact that this was my vase, for keeps. I cleaned it up and put it on display.
In several years, I've only used my prize once, to hold an oversized 1960's kitschy plastic flower bouquet for a Laura's Last Ditch photo shoot. Yet, this Roseville vase stands testament that a frugal non-consumer can have some of the finer things in life–if she's patient, can see the beauty in a trash pile, and doesn't mind a rough edge here and there.
Like drooling over other people's Fabulous Frugal Finds?  Well then, you're in luck!
Click HERE to follow The Non-Consumer Advocate on Twitter.
Click HERE to join The Non-Consumer Advocate Facebook group.