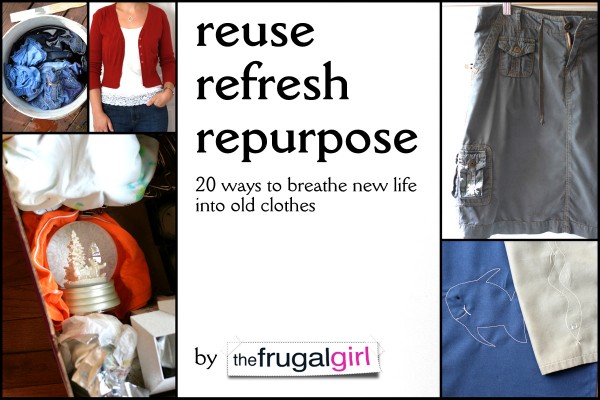 I have a very fun giveaway today, which is your very own personal copy of The Frugal Girl's "Reuse, Refresh, Repurpose: 20 Ways to Breathe New Life into Old Clothes."
"Reuse Refresh Repurpose" is a 57 page inspirational collection of crafty yet practical ideas. Written in The Frugal Girl's appealing friendly style, (and including tons of her fantastic photos) this eBook is packed full of ideas for both the beginner and the expert. And as a PDF, it can be read on any regular ol' computer.
To enter to win this book, write your name in the comments section, and maybe even share a little frugal tip. I will randomly choose a winner on Wednesday, September 14th at 9 P.M. Pacific time. As this book is an eBook, this giveaway is open to international readers. One entry per person.
Good luck!
Katy Wolk-Stanley
"Use it up, wear it out, make it do or do without"
Click HERE to follow The Non-Consumer Advocate on Twitter.
Click HERE to join The Non-Consumer Advocate Facebook group.