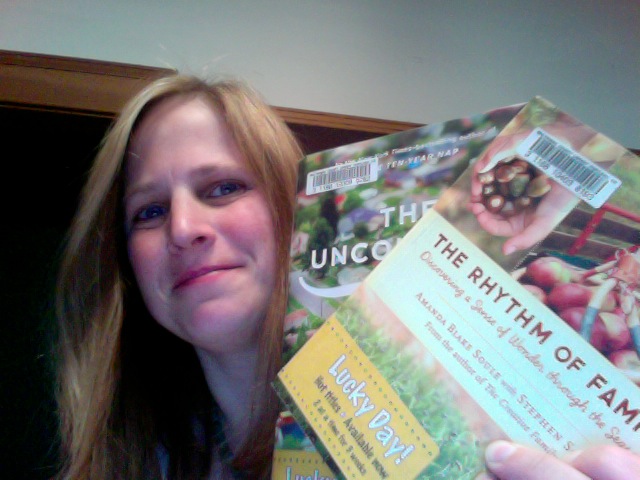 My employer has been changing how they schedule the nurses, and as a result I've been working a lot less than normal. This is bad because it's meant that my paychecks are close to non-existent. I am not going to paint a rosy picture of the situation, as frankly, it sucks! However, it has meant that I have more time on my hands than I've ever had in my adult life. So, have I been tackling household projects, writing a book proposal or finally addressing the flabbitude that is my midsection?
Nope. I've been reading a lot. Because the cut in my work hours coincided with the library's new Lucky Day program, where they make high demand books available to actually pull from the shelf, (with the limitation that you can only check out two at a time and they're non-renewable.) No longer are the desirable book months away from available, and I can actually be a spontaneous reader again!
Glory be!
Just yesterday, I schlepped my two Lucky Day books back to the library and brought home two new books:
The Rhythm of Family: Discovering a Sense of Wonder Through the Seasons, by Amanda Soule.
The Uncoupling: a Novel, by Meg Wolitzer.
Both of these books have multiple holds on them, (the Amanda Soule book has 52 at the moment!) and I normally would not have been able to spontaneously bring them home. And the three-week deadline keeps me from setting them aside and forgetting about them. The Lucky Day program has also allowed me to read:
I Remember Nothing: and Other Reflections, by Nora Ephron. ****Highly recommend****
The Pioneer Woman: Black Heels to Tractor Wheels — a Love Story, by Bree Drummond.
Mini-Shopaholic, by Sophie Kinsella.
I am suddenly excited about going to the library again. Instead of heading straight for the hold shelf, (which has been my modus operandi of years late,) I actually get to read books that I'm in the mood for now, instead of six months ago!
Lucky Day? I say Lucky Year!
Have you been reading much lately, and if so do you have any books to recommend to The Non-Consumer Advocate community? Please share your suggestions in the comments section below.
Katy Wolk-Stanley
"Use it up, wear it out, make it do or do without"
Click HERE to follow The Non-Consumer Advocate on Twitter.
Click HERE to join The Non-Consumer Advocate Facebook group.