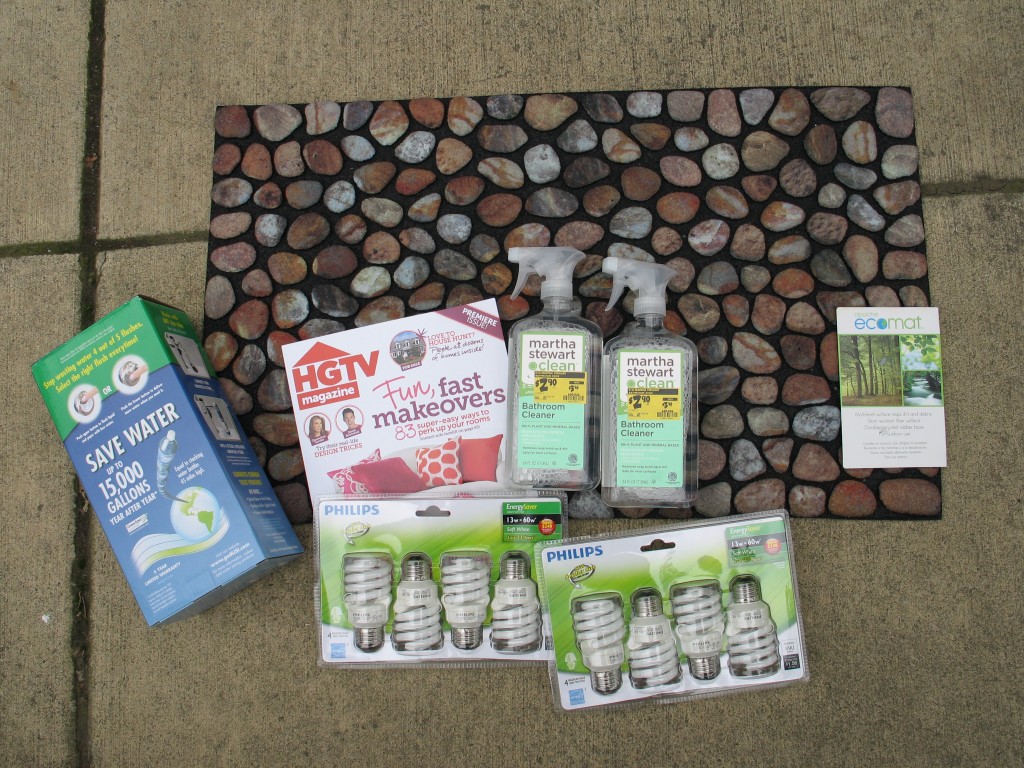 When asked what changes they can make in their lives to live green, many people immediately fixate on the big expensive stuff. For example, buying an expensive hybrid car or installing solar panels on their roofs. Don't get me wrong, these are admirable choices to make, but frankly, they're beyond many people's budget. And yeah, they're beyond mine.
However, just because you don't have a spare $20,000 cluttering up your house doesn't mean you are barred from enacting green living changes in your own home.
It should come as no surprise that I am a huge proponent of making small changes, which then add up to big results. And I am here to tell you that none of these green living changes are beyond the pocketbook of the average American.
From stringing a humble clothesline between two trees in the backyard to choosing a push mower instead of a smog inducing gas mower, these choices are available to most everyone.
I was recently given $50 to spend at The Home Depot on eco-friendly products, which I was eager to accept. Sure, I'm usually a proponent on buying used over new, but when buying a new product can bring about an earth friendly change,†I'm more than willing to make an exception to† the buy-nothing-new Compact.
Because I've already been making these eco-friendly choices in my home for a number of years, some of the more obvious choices had already been made. My lightbulbs are all energy saving CFLs, our toilet is low-flow, and we already garden organically, using the compost from our own bins.
But there's always more we could do, so I pointed the ol' mini-van toward the closest Home Depot to see what eco-friendly products could be bought for $50. Here's what I bought:
One doormat made from recycled materials. (Our current one is cute, but absolutely useless when it comes to removing any moisture or mud from the bottoms of shoes, which pretty much makes it as helpful as a butcher at a militant vegan cooking convention.) $12.97.
Two bottles of Martha Stewart brand plant-based bathroom cleaner for $2.90 apiece.
A "Dual Flusher" conversion kit for our toilet. This, I am excited about. We are not a "if it's yellow, be mellow" family, so this has the potential to save a ton of water! $19.98.
Two 4-packs of CFL lightbulbs. $7.94.
One issue of the new HGTV magazine. I consider this to be eco-friendly, because HGTV specializes in repurposing old stuff, so I am hoping for lots of great inspiration. $3.58.
Grand total for everything? $50.27.
I am really happy with the eco-friendly stuff I was able to find at The Home Depot. Nothing I bought today was anything I wouldn't have normally bought. And I am really psyched to install the dual-flush conversion kit. We use a ton of water at our house, and the opportunity to make a dent in our water usage without having to switch out the entire toilet is beyond exciting for me.
Yeah, I am an eco-geek. Katy Wolk-Stanley "Use it up, wear it out, make it do or do without."
†Want more tips†on how to†become eco-conscious? Visit the Prizes & Promotions Section on BlogHer!
†
This has been a paid review through Blogher. All opinions are my own. † †