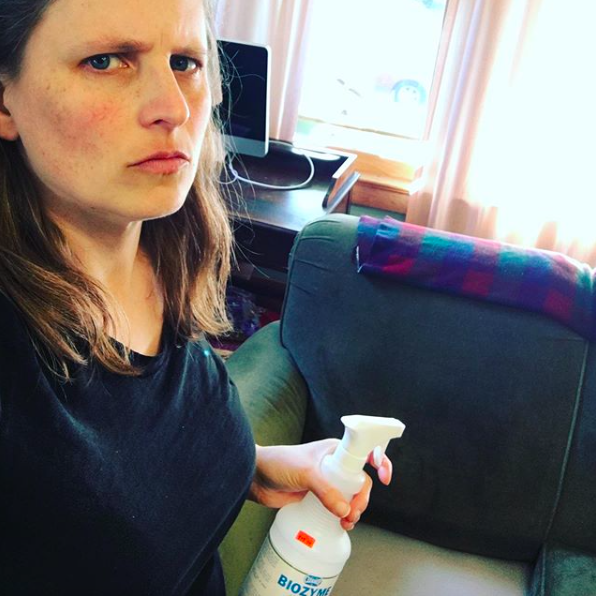 I somehow thought I'd paid my son's March rent when I actually hadn't, which resulted in a $50 late fee. I called the front office in an effort to reverse the penalty, but it was straight up non-negotiable.

I could set up automatic payments, but he's towards the end of a nine-month lease and I worry that it would be tricky to undo the payments.

I'd planned on taking the family to see Castle in The Sky on half-price night, (and I even wrote about it in this blog post!) but instead we went on a regular price night. This was a minor frugal fail as it was $4 per ticket instead of $2, but it that's still an $8 difference. However, this choice was made to accommodate our disparate schedules which made it worth the extra expense.

I'm as cheap as they come, but not so cheap that I won't throw eight bucks for the four of us to enjoy a rare evening out together.

Having my son home for spring break has meant that we're eating in restaurants, (yum) bakeries, (double yum) fast food joints, (meh) and then driving here, there and just about everywhere. It would be a grossly unsustainable habit were it to infect our regular routine, but since it's a single week, we can absorb it into our normal budget. I like to reframe it as "spending as if we're on vacation without the expense of actual travel." Suddenly doesn't seem so bad.

My cat peed on our new couch, which is why we had to get rid of the last couch! Luckily it was a $50 Facebook Marketplace find, but it was/is a high quality piece of furniture that I'd allowed myself to bond with. I washed the cushion covers and then hosed the cushions and back down with enzymatic spray, but let's be honest . . . it'll never be the same.

I spent $300+ in January to confirm that there's nothing physically wrong with either cat, so I guess the next step is to continue to explore other reasons for this fuckery meshugas.

I may have bought a goddamned Lear Jet.
Now your turn. What frugal fails have infected your life?
Katy Wolk-Stanley    
"Use it up, wear it out, make it do or do without."