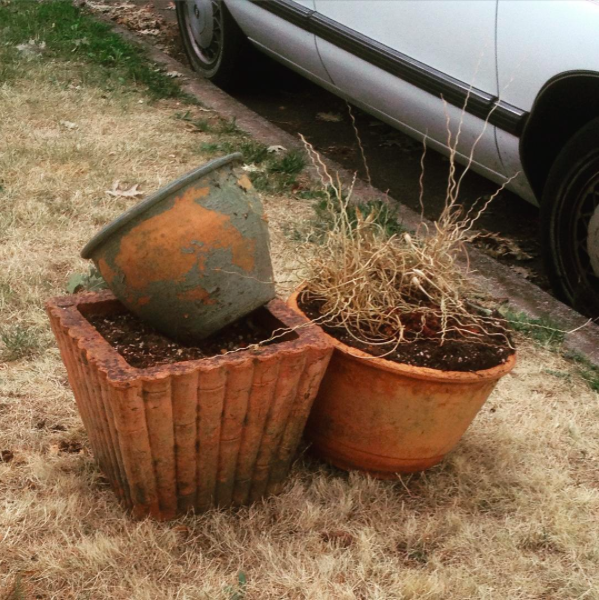 My next-door-neighbors threw a big party for the wife's 40th birthday, which included a keg of lovely microbrew. The husband posted on Facebook about having leftover beer, and that friends were welcome to come by with growlers. (Refillable bottles for beer.) I walked over with a growler at dinnertime, and my husband and I both enjoyed an indulgent beer with our meal. Thank you, Summer and Chris!
I brought home three terra cotta flowerpots that someone had put out for free. I'll probably just keep one, which is large, in perfect condition and features a delightful bamboo pattern. That is, after I make use of all the free potting soil.
I listed three textbooks on Half.com, which was extremely easy. (It's a division of eBay, so I didn't have to go through the steps of setting up an account.) If they all sell, I'll get $60 towards the ol' college account. (Two are current, one is older, so we'll see.) I also listed my freebie set of Cuisinart stainless steel cookware on Craigslist, as well as an extremely fancy clawfoot tub-shower conversion set that my husband and I bought brand new in 2005-ish. We overpaid for it, (and can't use it) so it's always made me cringe, so it's time for it to go away.
I didn't have enough barbecue sauce for last night's dinner, so I mixed up some catsup, brown sugar and Sriracha sauce to stretch what we had. Tasted just fine and saved me from having to grocery shop, which would have involved a likely ice cream purchase.
I hung two loads on laundry on the clothesline yesterday, I saved the leftover poppy and sesame seeds from bagel bags for the next time I bake bread and I enjoyed my son's rec soccer game, rather than the club games he's been playing the past few years. (Rec soccer costs less than $100 for the year vs. $1500 for club.)
Now your turn. What frugal things have you been up to?
Katy Wolk-Stanley
"Use it up, wear it out, make it do or do without."
Click HERE to follow The Non-Consumer Advocate on Twitter.
Click HERE to follow The Non-Consumer Advocate on Instagram.
Click HERE to join The Non-Consumer Advocate Facebook group.
Click HERE to follow The Non-Consumer Advocate on Pinterest.