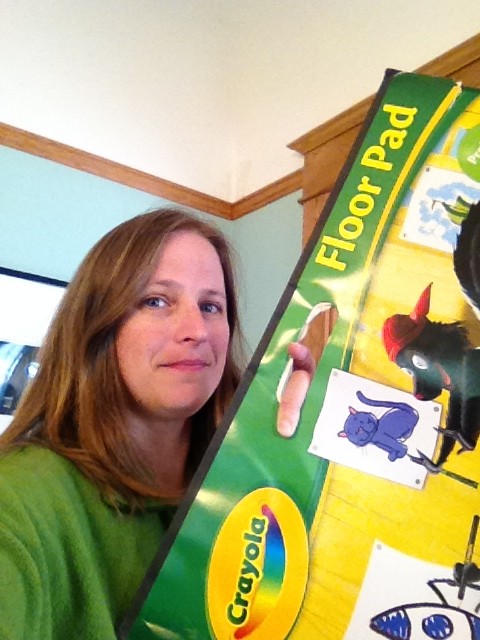 Balancing a family schedule can be a gargantuan task when there are working parents. We do our best to keep the online family calendar updated, but there always seem to be conflicts that clear communication could have avoided. But since the iCal computer program has to be consciously opened, it's a very flawed system.
I decided that we needed one of those large desk size month-at-a-time paper calendars. You know, the really big ones?
Pen to paper, in a location where all family members can see it. In everyone's faces!
Tuesday evening is soccer practice!!!!!
But then I reminded myself that I don't like to buy new.
I thought about finding an online printable version, but I didn't want to be taping pieces of paper together, not to mention that printer ink is far from free.
I remembered that we had a huge pad of Crayola brand paper that was about the same size as the calendar that I craved. Yes, it's so old that the edges are starting to yellow, but so what? I went ahead and pulled out a Sharpie and drew a calendar grid and added everything from the iCal program. My husband's work, my work, back to school night, soccer practices, launching our older son at college, etc. And then I clipped it to the kitchen wall. For all the world to see.
See how un-Pinterest-worthy it is? Go ahead and pin it. I dare you!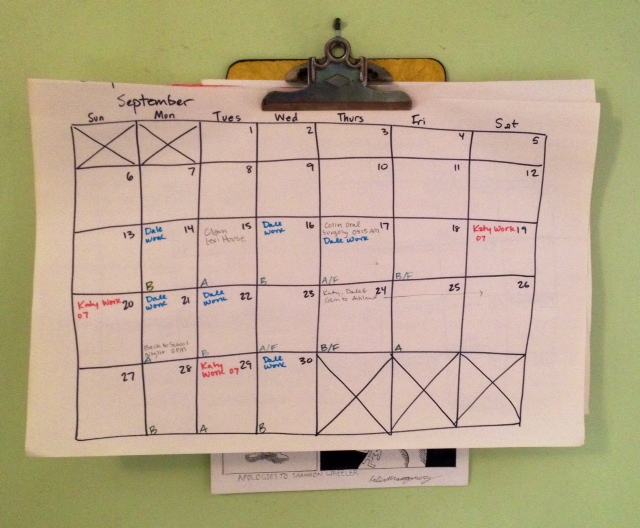 Here's the most important part. I didn't measure out the boxes, I didn't use a straight edge and I certainly didn't do a Pinterest search to make it as cute as possible. It took around ten minutes from start to finish, which included a page for the month of October.
We now have a family calendar which clearly shows everybody's schedules, and I was able to create it from supplies we already had around the house. Nothing new was manufactured and there was no errand to buy a consumer product.
Now . . . to get my husband on board to actually use it.
Katy Wolk-Stanley
"Use it up, wear it out, make it do or do without."
Click HERE to follow The Non-Consumer Advocate on Twitter.
Click HERE to follow The Non-Consumer Advocate on Instagram.
Click HERE to join The Non-Consumer Advocate Facebook group.
Click HERE to follow The Non-Consumer Advocate on Pinterest.