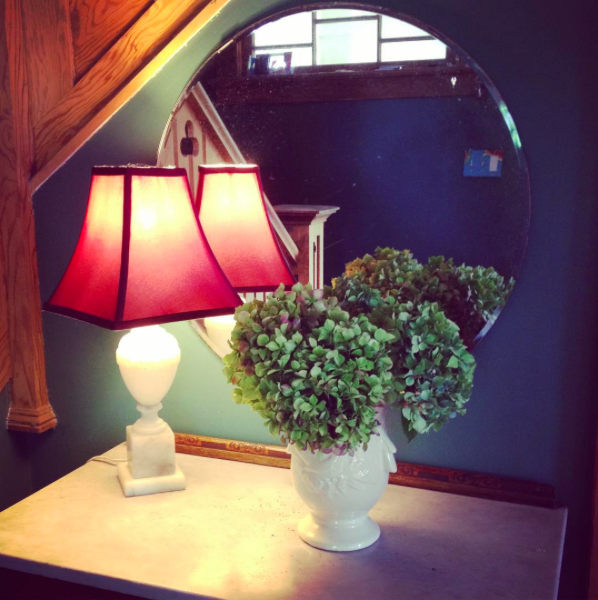 The Grocery Outlet had 12-ounce packets of ham chub ends on clearance for 50¢ each, so I bought four. I froze three packs and then chopped up the other to add to last night's white bean soup. I should have bought all of them!
I went and cleaned one of my mother's guest cottages last night after clearing up from dinner. Although it was 9 o'clock and I was starting to get sleepy, I still drove across town to help my mom out and make some extra money. It wasn't so bad once I got started since I had my earbuds and a good podcast, plus I was happy to just get the chore over with. The money will go towards my son's college fund and supports a debt-free life for my family.
My older son has been wearing the same pair of shoes for at least two years, and I've been begging him to get a new pair before heading off to college. Yesterday he walked down to the Buffalo Exchange consignment shop and picked out an awesome pair of shoes, as well as a much needed pair of pants. The best part? He spent gift cards he'd earned from selling clothing we'd KonMari'd from his room.
I used my neighborhood's buy nothing group to rehome a DVD of August Osage County, and am arranging to pick up a few extra gallons of milk from someone else. (Hooray for having a chest freezer!)
I mailed the A Guide to Budgeting For The Young Couple booklet to my friend Greta, who wants it for her father-in-law, (although I scanned it first so I can share the entirety on the blog), I brought in hydrangeas from the backyard for a pretty arrangement, I returned bottles and cans for $2.20, I found 76¢ on the ground at the credit union, I dropped off plastics recycling, I walked to the grocery store and I put on a sweater rather than turn on the heat.
Now your turn. What frugal things have you been up to?
Katy Wolk-Stanley
"Use it up, wear it out, make it do or do without."
Click HERE to follow The Non-Consumer Advocate on Twitter.
Click HERE to follow The Non-Consumer Advocate on Instagram.
Click HERE to join The Non-Consumer Advocate Facebook group.
Click HERE to follow The Non-Consumer Advocate on Pinterest.