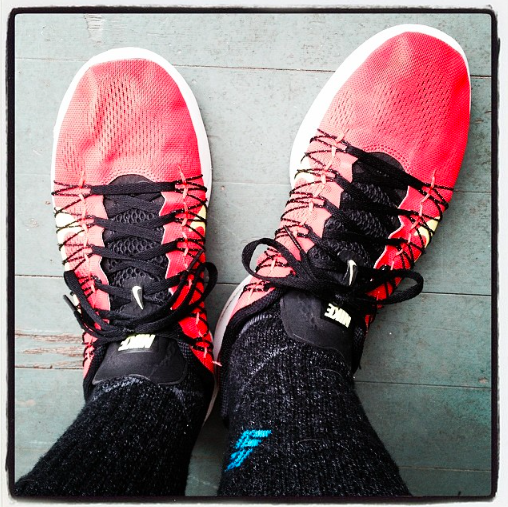 I needed a pair of new athletic shoes, so I usurped a pair of my son's many new looking pairs of Nikes. I will reimburse him the $20 he paid for them at Goodwill and spare myself the unpleasant task of thrifting for sneakers. 

My sons had a soccer game yesterday, and it was sunny outside. I grabbed my sun hat from the coat closet, where it had been languishing since last fall only to find that it had been squashed into a weird shape. Fixable, yes, but not in an instant. Instead I grabbed a Transformers movie one-size-fits-all baseball hat a friend sent to my younger son and wore it to shade my delicate flower face. (My friend's husband had worked as an editor on the Transformer movies.) I think I can truly embrace this hand-me-up style of clothing myself.
My husband and younger son went to last night's Portland Timbers soccer game, which left my older son and I on our own. No problem, as I had a Redbox code for a free movie and coupons for ice cream. (Grocery store circular, plus manufacturer's coupon brought the price of Dreyer's half-gallons down to $2 apiece.) We rented This is The End, which was absolutely hilarious, (although not for the young 'uns.) And since the coupon required me to buy two ice creams, I stashed the second one in the basement freezer for next week's dessert night.
This Tuesday is election day, and we Oregonians only vote by mail. But instead of spending the 49¢ apiece for first class stamps, I'll walk our ballots over to the library. Every little bit counts baby, every little bit counts.
I have a practice of buying a single $80-ish expensive bra at a time and then wearing it to death. And let me overshare that death had most definitely come. But instead of going to Nordstrom like I usually do, I took a JCPenney gift card I've been chipping away at, (my aunt and uncle sent it a few years ago) and hit the lingerie department. I worked with the saleswoman to find what I needed, and walked out with two!!!! incredibly comfortable brassieres and only $23 out of pocket. Yes, my life is both glamorous and exciting.
Now your turn. What frugal things have you been up to lately?
Katy Wolk-Stanley