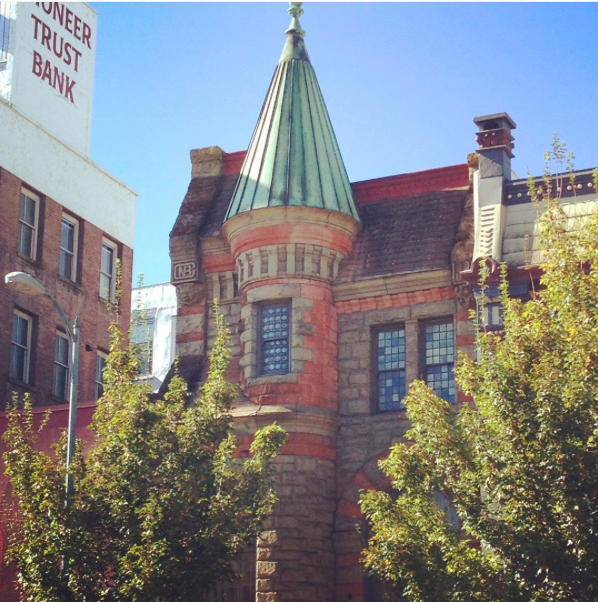 My husband and I drove down to Salem, Oregon for the governor's volunteer awards luncheon. We chose the Prius over the minivan and gave a ride to two fellow volunteers from The Timber's Army. Our meal was free, and the company terrific. (It turns out that the woman we gave a ride to used to work with my sister in New York City!) I'd never been to the historic downtown area of Salem, and enjoyed looking up at the wonderful old buildings. Sadly, the governor was unable to attend the event, as she was down in Roseburg for the first day back of Umpqua Community College.
I signed up to participate in another in-person consumer opinion poll. The last one I went to was overbooked, which meant they handed me a hundred dollar bill and told me to go away. This poll is about home ownership, which is a subject I'm quite familiar with. Not sure if I'll be picked to come in, but it won't happen unless I sign up. If I am chosen, I'll make sure to show up a few minutes ahead of time, as last time they had a twenty dollar bill they raffled off to those who came early.
I'm planning a December trip to New York City, this time to help my sister celebrate her 50th birthday. My mother doesn't want to travel alone, so she's covering my flight. Thanks, mom!
I relisted my Craigslist ads last night and already have someone who wants to buy the racquetball racquet that I've been trying to sell over the past month. This may sound like a lot of effort for a small return, but since I paid $1.99 for it, the $13 I'll earn makes it worth it in my book. The work of putting together a Craigslist ad is a one-time job, and relisting it takes around fifteen seconds, tops. I try not to buy for resale if the item is expensive or takes up a lot of space, which makes this racquet the perfect resale candidate!
My husband repainted our front porch this summer, but there are a couple of tiny spots that need touching up. Unfortunately, the specialized porch paint costs $80 per gallon. He and I were discussing it today and realized we could simply buy a $3 sample at the Benjamin Moore store which is plenty for our needs. Luckily it's a standard color, which should make this frugal solution a slam dunk!
Now your turn. What frugal things have you been up to?
Katy Wolk-Stanley
"Use it up, wear it out, make it do or do without."
Click HERE to follow The Non-Consumer Advocate on Twitter.
Click HERE to follow The Non-Consumer Advocate on Instagram.
Click HERE to join The Non-Consumer Advocate Facebook group.
Click HERE to follow The Non-Consumer Advocate on Pinterest.