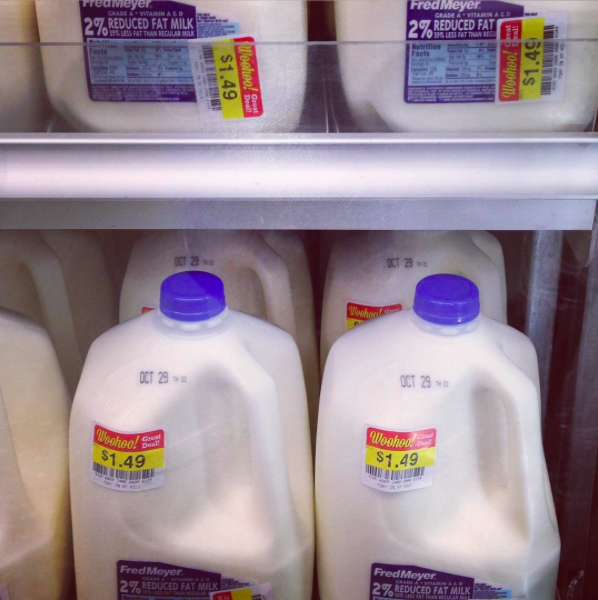 I walked to the grocery store to pick up milk and scored a 2% gallon that was marked down to $1.49. I would have bought a few extra for the freezer, but I don't exactly have the upper body strength to perform this Herculean feat. Maybe I should develop a Crossfit-style class where the frugally inclined schlep full gallons of milk. Hmm . . . that's actually not such a bad idea.
My husband and I are in a five-paycheck month, (three for him and two for me) so I was able to transfer a BIG chunk of money into the kids' college fund. We'll be more than ready by January when the next payment is due! In fact, it will be fully funded by the end of November, which means we'll be able to put extra aside for our younger son. (Oy vey . . . I am not looking forward to next year's double college payments!)
I'm putting my full focus into budgeting this month and am pleased to see that with a week left to go, we've only spent $300 on groceries so far. And since I budgeted $400, there should be enough leftover to splurge on a restaurant meal when we take our younger son for a program specific college tour on Monday.
I'm treating my mother to a movie matinee this afternoon as her birthday gift. This experience-not-stuff gift will set me back a budget-friendly $8 which includes the candy!
I cleaned one of my mother's guest cottages, I ended up spending only $25 on my replacement purse, I sold that weird fireplace screen for $5, I sat in my car and read magazines during my son's soccer practice to minimize excessive driving, I served leftover black bean chili with quesadillas for last night's dinner, I returned a $71 box of printer ink and immediately deposited the cash back into the credit union, I stayed out of tempting thrift shops, I found a 1943 steel penny on the ground at the credit union, but also two quarters from under the coin counting machine and I didn't buy a Lear Jet.
Now your turn. What frugal things have you been up to?
Katy Wolk-Stanley
"Use it up, wear it out, make it do or do without."
Click HERE to follow The Non-Consumer Advocate on Twitter.
Click HERE to follow The Non-Consumer Advocate on Instagram.
Click HERE to join The Non-Consumer Advocate Facebook group.
Click HERE to follow The Non-Consumer Advocate on Pinterest.