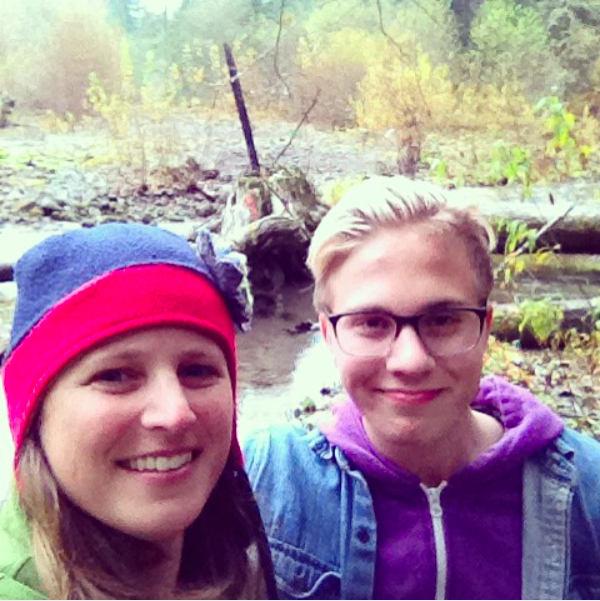 I took my son up to Mt Hood yesterday which was completely and perfectly enjoyable. We didn't make this decision until around 2 o' clock, but I'm so glad that we did. We ate a delicious dinner with my father and step-mother at their cabin, and then drove home around ten. Sometimes it's very complicated to get away from the city, but then I remember that it's only slightly more than a hour's drive to change our urban surroundings and outlook. I reset the meter on the Prius to track our mileage and was pleased to see that we got 67 miles-per-gallon during the ride home. If only every trip was downhill from a mountain!
I sold a thrifted wool rug through Craigslist this morning for $40. I have three other Craigslist items still awaiting customers, but there's no hurry. #collegefund
I worked Friday and brought leftovers for lunch and drank the free crappy hospital coffee. I also brought home a free framed print that used to hang on the wall. The brass frame is outdated, but it's but the work of a moment to spray paint it black for an updated look. It's nicely matted, so I'll probably use it to frame some kid art.
My father gave me a loaf of his homemade bread to bring back home to Portland.
I was gifted two gallons of milk through my Buy Nothing Group, and in return I gave the woman a large bouquet of hydrangeas as a thank you.
Now your turn. What frugal things have you been up to?
Katy Wolk-Stanley
"Use it up, wear it out, make it do or do without."
Click HERE to follow The Non-Consumer Advocate on Twitter.
Click HERE to follow The Non-Consumer Advocate on Instagram.
Click HERE to join The Non-Consumer Advocate Facebook group.
Click HERE to follow The Non-Consumer Advocate on Pinterest.