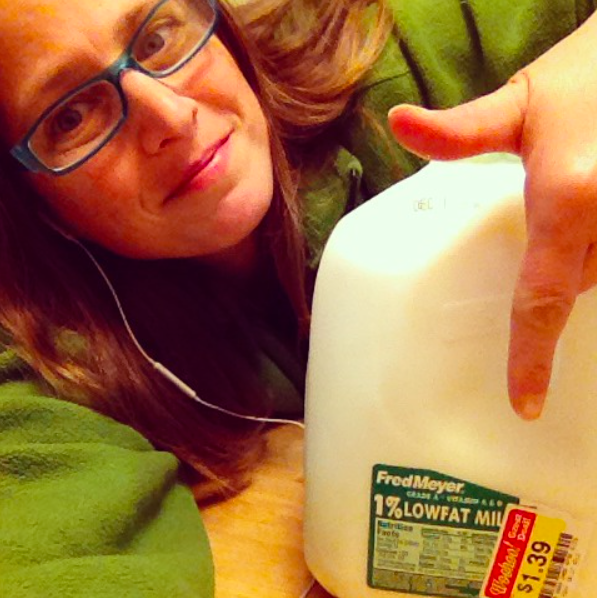 I scored two gallons of $1.39 milk whose sell-by date wasn't even until December 11th. I poured off a glug of milk from one of the gallons and stuck it in the freezer, which means I shouldn't have to buy milk again for at least a couple of weeks.
My iPhone earbuds were starting to not transmit sound so well, and I worried that they needed replacing. I took the not sharp end of a needle and scraped out the buds. I'll spare you the disgusting details, but it turns out that there was enough, ahem . . .  matter over the screen to block sound. I finished up the job with rubbing alcohol and a Q-tip and they now work perfectly. #waxon #waxoff
I put together our December budget, and despite some extra expenses such as renewing my RN license and holiday gifts, we are A-Ok. I'm taking a week off to travel to New York for my sister's 50th birthday, which means my income will be lower this month, but we'll still have no problem paying bills while continuing to put money aside for the boys' college funds. We scrimp and save on the little stuff so we're able to afford the important big expenses.
I mixed up a batch of black bean and corn salsa using crock-pot cooked beans, frozen corn and a jar of fancy organic 99¢ salsa. (Grocery Outlet, of course!) I served it with fish last night, and will keep the rest in the fridge for various meals and snacks. Healthy, cheap and delicious!
I'm batching errands this afternoon to pick up Dave's Killer Bread from the outlet, buy Costco gasoline and cash in our yearly rebate. I rarely, if ever drive far from the house for a single task.
Now your turn. What frugal things have you been up to?
Katy Wolk-Stanley
"Use it up, wear it out, make it do or do without."
Click HERE to follow The Non-Consumer Advocate on Twitter.
Click HERE to follow The Non-Consumer Advocate on Instagram.
Click HERE to join The Non-Consumer Advocate Facebook group.
Click HERE to follow The Non-Consumer Advocate on Pinterest.