The following is a reprint of a previously published post. Enjoy!
Many people on their frugal journey are perfectly fine with scrimping and saving for themselves, but are hesitant to buy used gifts for their loved ones. Or . . . when they pick up a fantastic $5 used gift that normally wold have cost $50, they feel like they still need to buy additional gifts to make up the difference. I'm here to tell you that:
A) It's okay to give used gifts.
B) Base what you're giving on the actual gift rather than how much you paid for said gift.
I just finished packing up my sister's and niece's package which I will mail out to New York City as soon as I've completed this blog post. This box is filled with fantastic gifts, yet the contents set me back no more than $30.
My eight-year-old niece is getting:
Tinkertoys from the Goodwill outlet, (pay by the pound) an adorable plush Japanese doll still in package from Goodwill, a large stack of Zilpha Keatley Snyder hand me down books from my son; and a Goodwill miniature silver plate Revere for Gorham bowl that is perfectly proportioned for her American Girl doll. (All the women in our family have this bowl, so the miniature version totally melted my heart.)
My 47-year-old sister is getting:
A necklace and earrings, (Goodwill) a groovy Le Sportsack zipper pouch, (Goodwill) and a new looking vintage recipe box. From eBay she'll be getting a good luck coin that was given out at the 1938 opening of my grandfather's fur store in Pittsburgh. (I did pay $28 for it, but c'mon, I had to buy it!)
Look: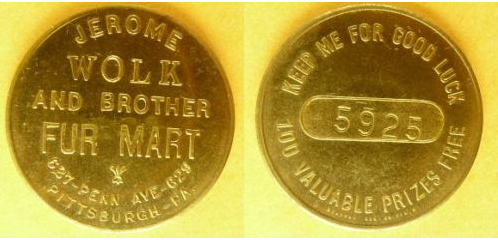 My father talked to his 86-year-old brother about the coin and learned that these were given out in conjunction with the opening of one of his stores, and that my grandfather had 5000 carnations to give out to the ladies yet he ran out! There's also a ton of additional family information surrounding this coin that I had never heard before.
My sister will love this gift, and it's the perfect thing for someone who lives in a Manhattan apartment with a family of four. And she'll enjoy calling our uncle and learning all the family lore.
Yes, I did splurge on new $70 custom Vans sneakers for my 13-year-old nephew, but everything else came from Goodwill or eBay. I feel really good about this year's gifts, and not one ounce of regret for the cheap factor.
It's okay to be cheap, because it's completely unrelated to generosity.
Now . . . I quickly need to call my sister and tell her to not read today's blog post.
Katy Wolk-Stanley
"Use it up, wear it out, make it do or do without."
Click HERE to follow The Non-Consumer Advocate on Twitter.
Click HERE to follow The Non-Consumer Advocate on Instagram.
Click HERE to join The Non-Consumer Advocate Facebook group.
Click HERE to follow The Non-Consumer Advocate on Pinterest.