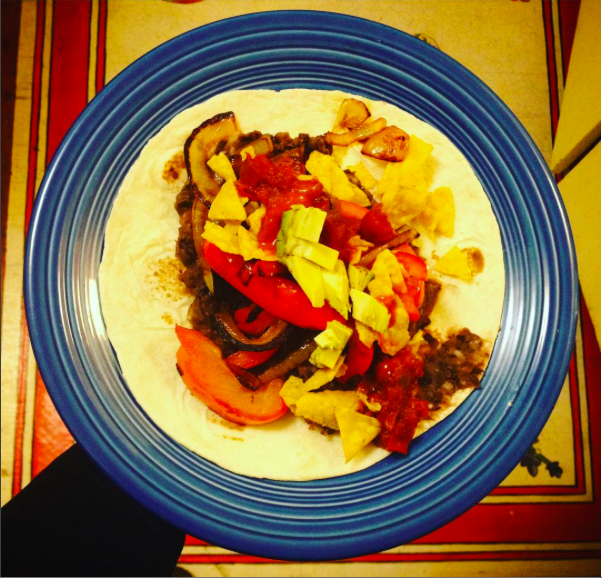 I served delicious yet frugal burritos that featured red peppers from the scratch-and-dent produce shelf at The Grocery Outlet. (I had to cut a small soft section from one of the peppers, but that's it. 99¢ for two red peppers, plus a head of broccoli.) I cooked the black beans in the crock pot and shook out the last crumbly bits from a bag of Juanita's tortilla chips for extra crunch. Yup, living frugally is a terrible sacrifice.
I darned a sock for a co-worker while watching the last few episodes of Jessica Jones last night. This is my version of "Netflix and chill."
I received my third every-other-week paycheck of the month today, which is always an enjoyable payday. Frugal is great, frugal plus extra income is amazing!
My husband will be spending a few days at the Oregon coast with his family to celebrate his father's 80th birthday. I'll be sending him with a cooler of food and pre-prepared meals to minimize the restaurant action. Eating out is special and to be savored, but not when it's every meal.
I brought my own food for every work shift this week, I enjoyed my library books while wearing my Dollar Tree reading glasses, I listened to Dave Ramsey podcasts while puttering around the house, I gave away some unworn socks through my buy-nothing group, I submitted another Clark Howard article, I cut my husband's hair and I didn't buy a Lear Jet.
Now your turn. What frugal things have you been up to?
Katy Wolk-Stanley
"Use it up, wear it out, make it do or do without."