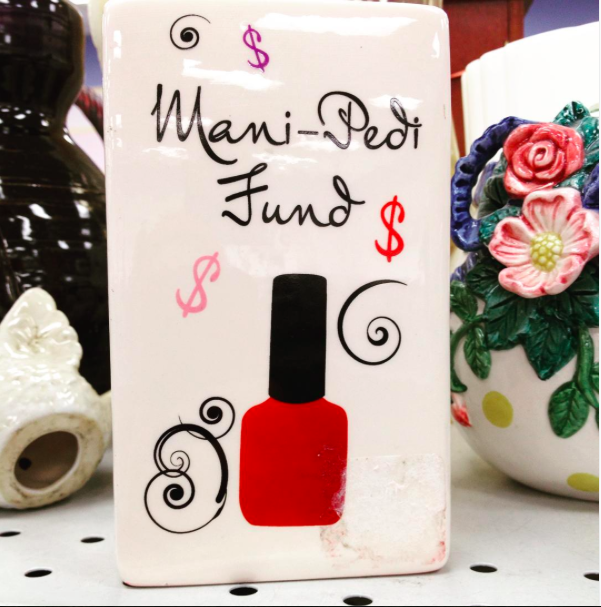 I finally went to the consumer opinion panel that I'd written about a few weeks ago. I earned $125 for two hours of time that normally would've been spent puttering around the house. I was able to get a friend qualified for the same panel, so it felt like socializing. We gave our opinions, enjoyed some free snacks and felt like cast members of The Sopranos when they handed us our envelopes full of cash. We were given swag bags of branded merchandise, but I declined mine, as the last thing I need in my house is more clutter.
I ran out to the grocery store last night and was able to score two gallons of $1.29 marked down milk. Yeah, baby!
My son wanted to go thrifting, so I picked him up after school and we browsed our local Goodwill. Neither of us found anything that needed to come home with us, even the above targeted savings bank. I guess some unfortunate recipient made a choice to not keep this ridiculously sexist clutter in her home. (I think the product development of this bank went something like this: "Hey, what do women like? Umm . . . manicures? Yeah, women like manicures.")
I darned more socks, defrosted clearance price chicken, read library books at my son's futsal (indoor soccer) game and dried lightweight clothes on our indoor clothing rack.
I didn't buy a Lear Jet.
Now your turn. What frugal things have you been up to?
Katy Wolk-Stanley
"Use it up, wear it out, make it do or do without."